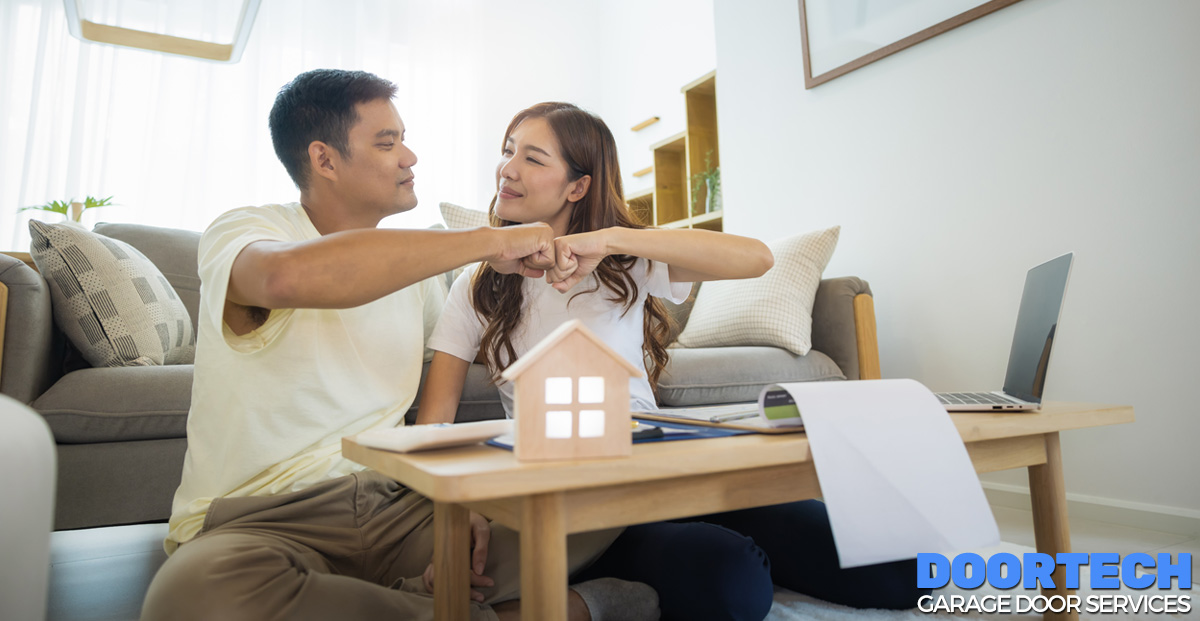 There are several types of garage door openers to choose from. This buying guide can help you find the right garage door opener for your home.
Types Of Garage Door Openers
A garage door opener opens or closes a garage door. The garage door has a trolley attached, run by a motor. The trolley moves to pull the door up to open it and push it down to close it.
When comparing garage door openers, three motor options move the trolley.
Belt-Driven Garage Door Opener
A belt-driven garage door opener uses a belt to move the trolley up and down. It has fewer moving parts than other models, making it ideal if you want less maintenance. This system also offers a smoother and quieter operation, making it a perfect choice for homes with sleeping or living quarters close to or above the garage.
Chain-Driven Garage Door Opener
Rather than using a belt to move the trolley, a chain-driven garage door opener uses a chain to raise and lower the garage door. This option makes more noise and has a higher vibration, so it may be best for detached garages or when living and sleeping spaces are not near the garage.
Direct-Driven/Screw-Drive Garage Door Opener
With a direct-driven or screw-drive garage door opener, the motor acts as the trolley, moving along the track to lower and raise the garage door. It has just a single motor part, so that it may have fewer maintenance needs than other options. It also has less noise and vibration than a chain-driven garage door opener.
Horsepower
The horsepower rating will determine how easily the garage door will open. The higher the horsepower, the easier it is to open the door and the less wear and tear the motor takes. Most residential models range from ½ horsepower to 1 ½ horsepower.
A higher horsepower motor may be best if you have a heavy garage door or a single door. Homes with sectional double-car garage doors may only need a ½ horsepower motor.
However, remember that the less lifting power your garage door opener has, the more maintenance it may need. It will also affect the life expectancy you could get out of it.
Garage Door Opener Features
A standard garage door opener typically has a manual release and remote, wall-mount button, or keypad to open the garage door. There is also usually a security light that automatically activates when in operation, turning off after a set time period.
Other garage door opener features to consider are:
Auto-close functionality
Built-in Wi-Fi connection
Miniature keychain remotes
Battery backup for power outages
Home-automation system connectivity
Motion-sensing security lights to allow automatic operation
Soft-start and -stop motors for quiet operation and limit wear and tear
Smart-device compatibility (may be built in or available as an accessory upgrade)
Vehicle compatibility (automatically built into some makes and models)
Locks to prevent remote opening (useful as an additional security measure when going away on vacation)
Rail extensions for 8-foot-high door openings
Choosing a Garage Door Opener
Although there are only a few options to choose from, there are many features and price points for garage door openers. Call us today at Door Tech in Maryland if you need help choosing a garage door opener or need someone to install it. Our professionals can help you make the best choice for your family's needs and budget.