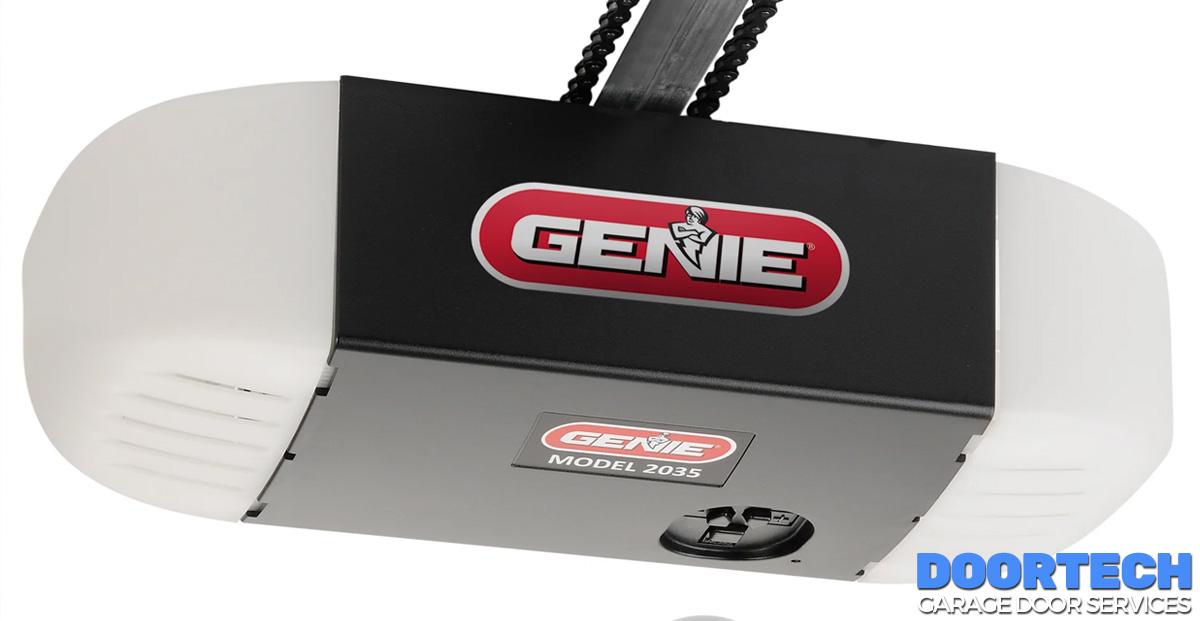 Are you in the market for a new garage door opener? Not sure which brand is best? There are many brands to choose from, and it's easy to get lost in selecting a manufacturer.
Genie has been manufacturing garage door openers since 1923. The company began as the Alliance Manufacturing Company, producing the first radio-controlled, mass-production residential garage door opener in 1954 under the Genie name.
In 1958, Genie once again became the first in its industry by producing the first direct-drive screw door opener. In celebration of their centennial year, we highlight Genie's garage door openers.
Genie Garage Door Opener Drive Types
Genie offers several ceiling-mount garage door opener drive types to choose from:
Belt Drive
A fiberglass, PUR, or rubber belt drives the trolley to open and close the garage door. For homeowners wanting quick and quiet operation, a belt drive garage door is a great solution. Belts are usually readily available, but this style may not last as long as other drive types, especially in Maryland, with humidity and extreme weather fluctuations.
Genie offers 15 belt drive models. They are ultra-quiet, making this drive type a great option even if you have living space close to your garage. Some models include Wi-Fi capabilities, a battery backup system, and LED lighting.
Chain Drive
A metal chain controls the trolley, raising and lowering the garage door. This option is budget-friendly and durable. Plus, since it's a commonly sold drive type, replacing a chain is easy if it breaks, as parts are readily available. However, expect to do more maintenance to prevent corrosion and rust.
There are seven chain-driven models available through Genie. The 2033 series has built-in Wi-Fi, and the 7035 comes with a battery backup system.
Screw Drive
The most expensive drive type is the screw drive. It uses a rotating steel rod to move the trolley to raise and lower the garage door. It is the quietest option and is easy to install with low maintenance.
Genie has three screw drive models available. The 4063 comes with Wi-Fi built-in. The 4064H is a one-piece rail design that will work on garage doors as high as 14 feet. It also has motion-detection lighting; you can upgrade it with a battery backup system.
Wall Mount
Wall-mount garage door openers offer the most space-saving of all drive types. A cable opens and closes the garage door. They are ideal if you:
Want a low-maintenance door opener
Have high or cathedral-style ceilings
Want to use the ceiling space for storage
Have a large vehicle with an overhead carrier
Want a clean and uncluttered garage feel
There are four models available through Genie. All come with LED lighting, and you can also include battery backup and Wi-Fi.
Why Choose Genie?
Besides being one of the oldest manufacturers in the industry, Genie offers several features you may find valuable:
Its Intellicode® Access Security System automatically updates your security system every time you use the remote. Changing the access code with each door activation prevents unauthorized access, keeping you and your family safer.
GenieSense™ Monitoring and Diagnostic Technology provides continuous monitoring during door operation, stopping the door as soon as a significant change happens. It reduces noise and wear and tear on the door and makes the process safer overall.
The Safe-T-Beam® System uses an infrared beam to self-diagnose functionality, alerting homeowners if anything is out of alignment or damaged. If an object passes through the beam during operation, the door will stop automatically and reverse.
Choosing And Installing A Garage Door Opener
Still not sure if Genie is right for you? Do you need help finding a new garage door opener or someone to install it? The professionals at Door Tech Garage Services of Maryland are ready to help, from finding you the suitable door opener to meet your needs to providing prompt and professional installation. Schedule a free estimate by calling us today at 240-547-6512 or filling out the form on the right.