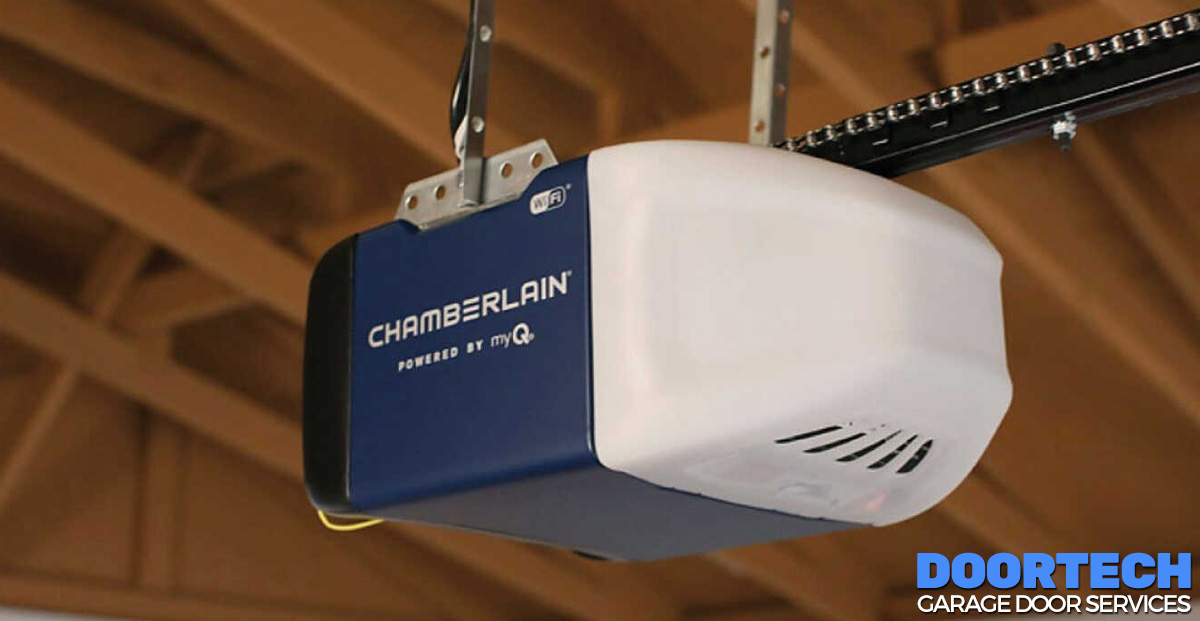 There are many brands of garage door openers to choose from. The choices can be overwhelming if you're in the market for a new garage door opener.
One manufacturer to consider is Chamberlain. They have been industry leaders for over 40 years. They use innovative technology to bring consumers the most up-to-date safety measures and systems.
Chamberlain has over 400 worldwide patents and continuously develops new proprietary technology for their products. They also use only the highest quality software and hardware to guarantee optimal performance to keep your garage door opener working long-term.
Chamberlain Garage Door Opener Options
Chamberlain offers ultra-quiet garage door openers to minimize noise and vibrations. This feature is especially important if living space is above or next to the garage door.
Installation is easy for people who prefer the DIY approach. Suppose you prefer to have a professional handle the installation. In that case, Door Tech Garage Door Services of Maryland can order and install your garage door opener.
To ensure you always have access to your garage, consider a battery backup add-on to your Chamberlain garage door opener.
The new RJ070 space-saving wall mount opener allows you to use your garage's ceiling space for lighting, fans, storage, and more.
Its latest high-tech smart garage door openers offer sleek designs, and live and recorded video. They also integrate LED lighting, plus security features like Amazon Key In-Garage Delivery.
Chamberlain Drive System
Chamberlain garage door openers come in two drive system styles: belt and chain driven.
A belt drive system offers an ultra-quiet and smooth experience, ideal for living spaces around the garage door.
The heavy-duty chain drive system offers a budget-friendly option that's great for standard aluminum doors.
Most Chamberlain garage door openers are ceiling mounted. Still, they offer two options for wall-mount garage door openers, the RJ020 and RJ070.
Safety And Security Features
Chamberlain uses photo eye technology safety sensors to ensure nothing is in its path while closing. The technology can recognize animals, people, and vehicles.
The opener has a lifting force of 1¼ horsepower to lift heavy doors and handle extreme conditions. Force detection automatically adjusts the push and pull force as needs change.
There is also an automatic deadbolt lock feature that automatically locks when the garage door closes for another layer of security.
myQ Garage & Access Control App
The myQ Garage & Access Control App allows you to access your home, even when you're not there. Features include:
Real-time alerts
Ability to open and close the garage door plus control home lighting no matter where you are
Create daily schedules for home lighting and garage door usage
Provide guest access for up to five users
Includes smart vehicle access with
Hands-free access
Smart safety features
Geofence technology
In-car notifications

Pair with other smart home products to further customize your home's features
Amazon Prime members can link their Amazon Key to their myQ app to allow in-garage deliveries from Amazon and groceries.
Buying A Chamberlain Garage Door Opener
Whether you're trying to choose a Chamberlain model or you've purchased your garage door opener and need installation, Door Tech of Maryland can help. We offer free estimates. Just fill out our form to the right or call us today at 240-547-6512.