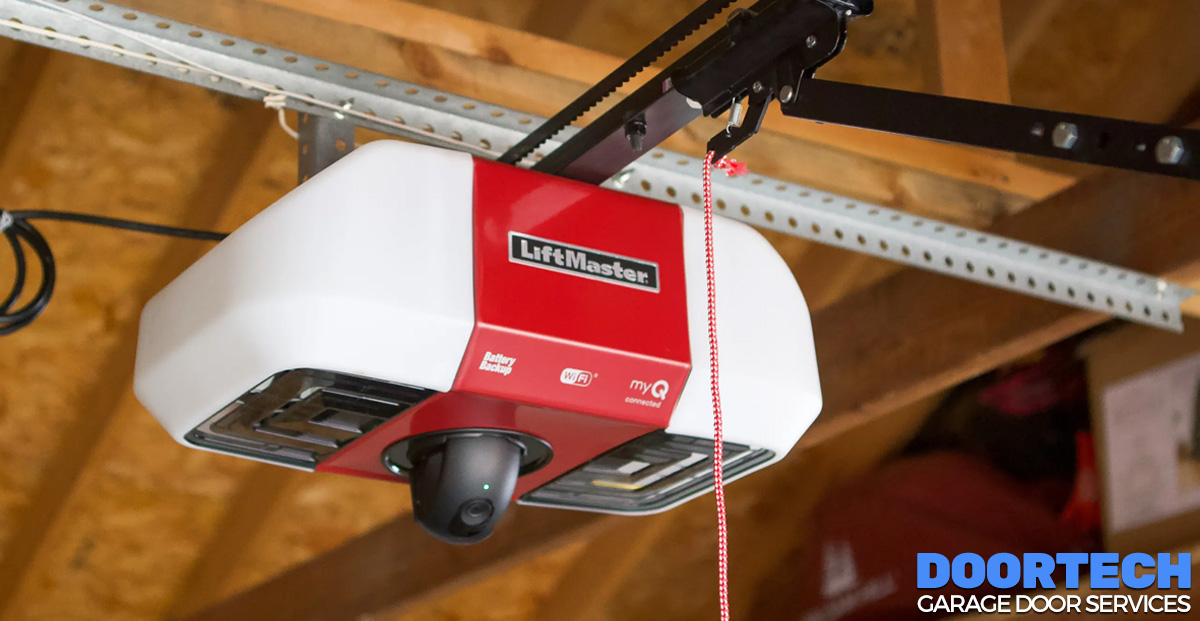 Have you considered a LiftMaster Garage Door Opener? Every family needs a reliable and robust garage opener to bring security, speed, and convenience into their lives. However, not all garage openers are the same, and choosing the correct one can be vital for your home. LiftMaster offers a sizable lineup of Garage Door Openers and is well known for providing dependable machines that fit wallets and all the family's requirements.
Here is a quick look at LiftMaster Garage Door Openers offerings:
LiftMaster Belt Drive Garage Door Openers
For homes that need a silent yet strong garage door opener, the belt drive openers from LiftMaster are an ideal choice. From top-of-the-line smart garage door openers with a camera, LED lighting, and App integration to back-to-the-basics hinge gate openers, LiftMaster has ten belt drive openers to choose from.
LiftMaster Chain Drive Garage Door Openers
Chain drive garage door openers offer best-of-class reliability and power, perfect for garage doors that are heavy and in constant daily use. LiftMaster offers eleven different models in this range to cover various price points and features. However, the customer can be sure of finding Liftmaster's proprietary myQ Diagnostics integration in all of them.
LiftMaster Wall-Mount Garage Door Openers
Ideal for small garages where space is a key concern, wall-mounted garage door openers keep all noise and vibrations to a minimum without compromising strength and durability.
Main Features of Lift Master Garage Door Openers
Integrated Camera with two-way communication
LiftMaster Garage Door Openers have a glare-resistant, night vision lens with 1080p resolution, complete with the auto-adjust feature to manage different light levels in the garage. It also has an integrated camera system that provides free Live Streaming via a subscription-based model. At the same time, it offers a Video Storage option for 7 to 30 days (depending on the chosen package). And it is not all one way! A 2-way audio connection will keep the garage and the user's smartphone in real-time sync.
myQ® App
Never worry about leaving your garage door open with live streaming courtesy of the myQ app. With the Secure View opener, users can watch their garage doors via their smartphones. You can use the myQ app to open and close garage doors remotely – anytime and from anywhere. Homeowners can use the myQ app on their phones to see visitors and garage premises via livestream and talk with others in the garage.
Notifications: Receive an alert and detailed situation description when you record an event in the garage
Access Alerts: Receive an alert every time someone enters or exits your garage, along with a recording of the action
People Detection: Identify people in your garage through the App
Advanced Lighting
LiftMaster models also come with integrated LED lighting that keeps all parts of your garage bright and visible, with 2,000 lumens, and a 360° light ring that reaches all corners of the garage to ensure zero dark spots.
Battery Back up
LiftMaster garage door openers come with reliable and durable battery backup. This is especially useful during emergencies, outages, and evacuations when users can access their garages safely. Depending on usage and regular battery care, the battery inside the garage door opener can typically last one to two years.
Amazon Key In-Garage Delivery
With LiftMaster Garage Door Openers, homeowners can opt for integrating Amazon Key In-garage delivery for convenient and secure delivery of Amazon packages and groceries. The In-garage delivery comes with real-time updates that allow users to monitor and control deliveries from their smartphones. The setup is straightforward for prime members who can simply link their accounts to Amazon Key in the myQ app.
Safety Sensors
Garage door openers from LiftMaster also come with extra safety features that include motion detection lighting and motion sensors. This is to ensure that there are no accidents with family members. The products also come with the Posilock feature, which detects and hampers forced openings, and anti-hacking technology to ensure the remote and keypad are hacking-proof.
Explore the various options and find out which opener is best for your home and wallet with this special Garage Door Selector Tool, or contact Door Tech.