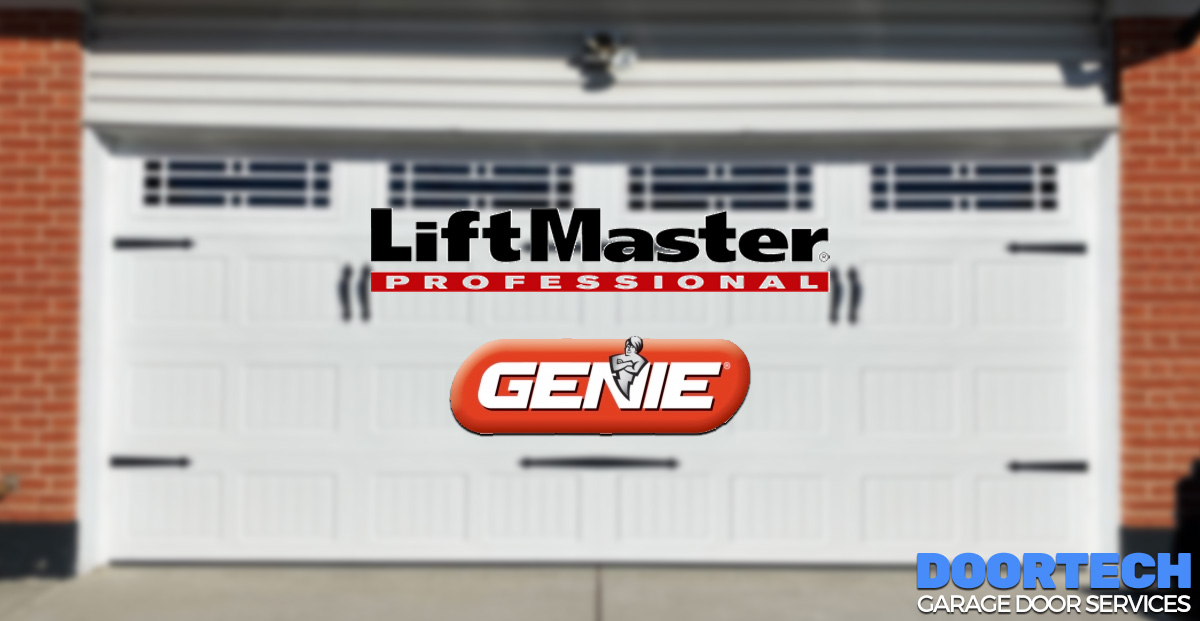 LiftMaster vs. Genie? You might be comparing different brands of garage door openers for your home. For homeowners shopping for garage door openers, two of the top brands in the market are LiftMaster vs. Genie. With top-notch, robust products and superior functionalities, both companies have cornered the market with product lines that cover the entire spectrum of family requirements and price constraints.
Genie Garage Door Openers
Genie has been in the business of making garage door openers since 1954.  Turning them into a household name across generations. The company offers a wide range of models for residential as well as commercial use. Genie sells a variety of models across chain drive, belt drive, screw drive, and wall-mounted categories. Their most popular garage door openers in 2022 are Chain Drive 500, Signature series 3155D, StealthDrive Connect, and QuiteLift Connect.
LiftMaster Garage Door Openers
LiftMaster was launched in 1967 by Chamberlain, its parent company, and has become a well-respected brand of garage door openers for home and commercial property owners. The company is known for providing highly efficient garage door openers with many extra features for various price points and requirements. Their most popular models include the 8500, 8355, 8550W, and 8587W.
With the variety on offer, deciding which to buy requires a deep dive into both companies. Here is a detailed comparison of each brand's unique and functional features.
Garage door Opener Styles
One main difference between Liftmaster vs. Genie is their technical offerings. Genie offers four types of door openers – Chain-drive, Belt-drive, Screw-drive, and Jackshaft-type garage door openers. At the same time, LiftMaster has discontinued its screw-drive garage door opener and now concentrates on the remaining three product lines.
Warranty
LiftMaster is clearly ahead regarding warranty; the company offers a lifetime warranty on all motors and belts, a 5-year warranty on parts, and a one-year battery-backup warranty. On the other hand, Genie's door openers come with a maximum 15-year or limited lifetime warranty, with a one to a 5-year warranty on core parts and a 1 -year warranty on accessories.
Security and Safety Liftmaster vs. Genie
Both brands are fairly well balanced in their safety and security functionalities. LiftMaster has Security+ 2.0, Genie has Intellicode, and these proprietary tools keep door access codes tamper and hack-proof. Along with this feature, the brands also offer motion detection lighting, safety sensors to keep the door open in case something obstructs it, etc.
Intelligent Automation
LiftMaster has integrated myQ technology, and Genie has Aladdin Connect; both are smart technology integrations. These integrations allow access to various automated and remote functions controlled by a smartphone app. Users can control and monitor their garage doors via their phones, get real-time notifications, automate the opening and closing of their garage doors, and track deliveries.
Amazon Key In-garage Deliveries
A critical difference between Liftmaster vs. Genie is the smooth integration of LiftMaster's myQ technology with the Amazon key, which allows for safe in-garage deliveries via Amazon. While Genie has an App that allows remote functionalities if users want to open the garage door remotely for deliveries, it is not as seamless as the Amazon Key.
Our Verdict
Both brands, LiftMaster and Genie, are relatively close to each other on the scale in terms of core product offerings and functionalities. However, LiftMaster has a slight edge in other areas like warranty and in-garage delivery integration. In contrast, Genie has an extra offering – the screw drive garage door opener. Both companies have been around for over 40 years. Their longevity in the market proves their reliability with customers is outstanding.
Ultimately, the decision is yours. An excellent first step to creating a shortlist would be to decide what kind of opener works for your home and what you are willing to pay for it. A quick browse on the brand websites (LiftMaster and Genie) is a must to get model details, so visit and get started! Call us at Door Tech to help you choose and install your new garage door opener!