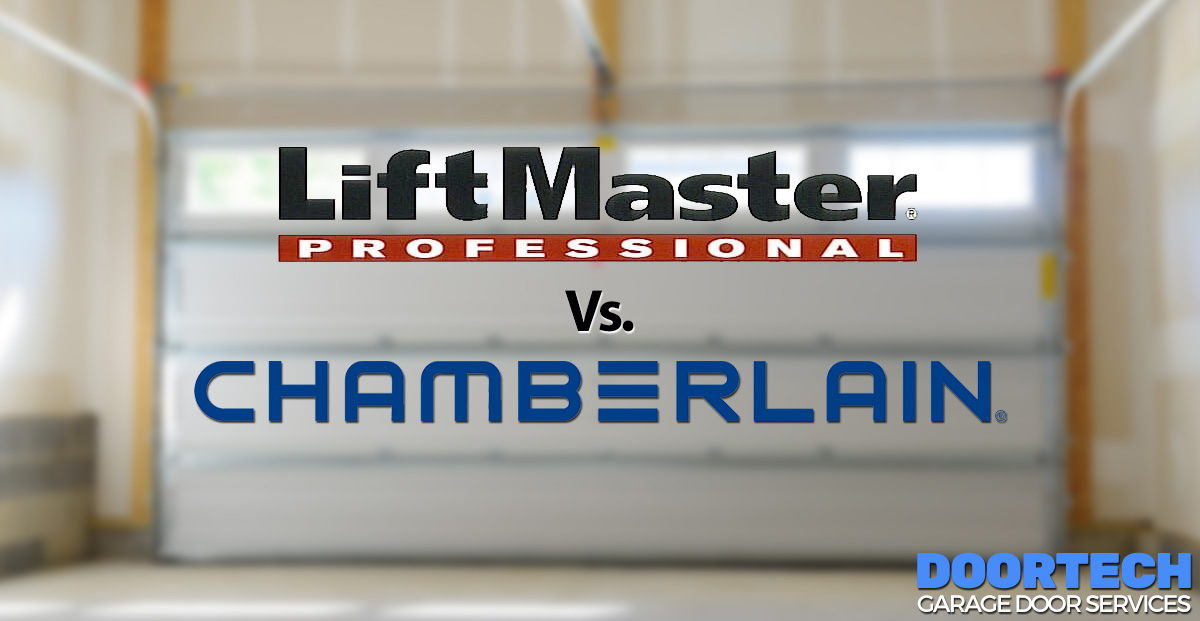 Today we'll be looking at a comparison between LiftMaster and Chamberlain Garage Door Openers. Not all garage door openers are equal; different brands' manufacturing, features, and durability make it imperative to look at the comparisons. Homeowners must find the one that suits their current needs and budget while keeping an eye on the future.
Two well-established brands come to mind when discussing giving homeowners the broadest possible choice in functionality, efficiency, and durability. LiftMaster vs. Chamberlain. Here is a bit more about them:
Chamberlain Garage Door Openers
Chamberlain is a leading industry player with a track record of over 40 years in manufacturing garage door openers. They focus on debuting new technologies, systems, and safety measures to delight their customers. Chamberlain B2405 Whisper Drive, Chamberlain B6765, and Chamberlain B4613T Belt Drive Garage Door Opener are the main favorites of homeowners.
LiftMaster Garage Door Openers
LiftMaster was launched in 1967 by Chamberlain, its parent company, and has become a well-respected brand of garage door openers for home and commercial property owners. The company is known for providing highly efficient garage door openers with many extra features for various price points and requirements. Their most popular models include the 8500, 8355, 8550W, and 8587W.
LiftMaster and Chamberlain belong to the same corporate parent company ― The Chamberlain Group. However, that doesn't mean they manufacture identical garage door openers. The core difference, despite some similarities, is that they cater to different customer groups.
Now, let us make a more in-depth comparison of their various features:
Design and Use Case – LiftMaster vs. Chamberlain
The main difference between the two brands is that Chamberlain door openers lift lighter doors (under seven feet) and are great for homeowners with small garages. LiftMaster, on the other hand, delivers more heft, and you'll find them on larger garage doors in residential and commercial spaces.
The focus on different use cases comes with other technology. Liftmaster derives its superior lifting power from a T-rail assembly trolly system made from a single piece of heavy-duty steel. Chamberlain works with a three-piece assembly trolly system, lessening its lifting capacity and making it lighter and smaller to install.
Security
Coming from the same stable, both brands have similar security features. These comprise motion detection (photo-eye technology and sensors) to ensure the door stays open when someone is in its path. They also include battery backup, real-time diagnostics, and control via myQ integration. They are encrypted and can change access codes for securing keypads and remotes.
LiftMaster has features such as Posilock to keep the doors secure and infrared motion detection hooked onto lights.
Warranty
Different models of different price points have various warranty coverage options. Comparing the top-end model of both brands showed us that Liftmaster models offer shorter warranty periods, between 1 to 3-year warranty. At the same time, Chamberlain garage door openers come with a 1 to 5-year warranty.
MyQ integration and other features
Both brands of garage door openers have very similar functionalities when it comes to smart automation. Both have similar MyQ integrations allowing homeowners to monitor and control their garage doors via mobile devices. The MyQ app will enable people detection, notifications, and access alerts and has the same storage option plans that let you keep video clips for up to 30 days.
Users have the exact same automation options in both brands with MyQ – scheduling door closures and controlling garage lights. You can also use it for Amazon key-in for in-garage deliveries.
Final Verdict
Both Chamberlain and LiftMaster offer top-notch quality products and are more similar than different. Naturally, some of this uniformity in features, quality, and reputation comes from belonging to the same parent organization. However, the two brands are not competitors as they serve different target groups.
Because Chamberlain works for smaller, lighter garage doors, it is also lighter on the wallet. In terms of installation, Chamberlain can be a DIY option. Whereas LiftMaster is, in terms of design, cost, and manufacturing, positioned for a market that needs bigger and stronger machines. It also requires professional installation, which can add to the price.
We hope this blog post has laid to rest some doubts about quality and features; now, you need to check out the numerous models each brand offers to find the right fit for your needs.