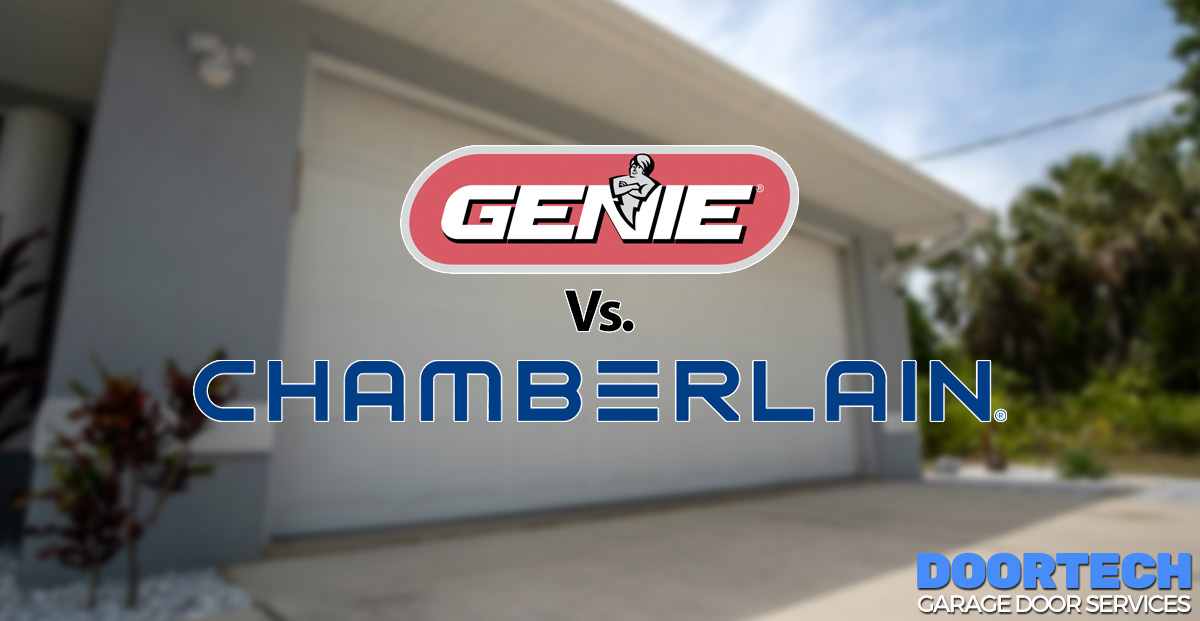 Here we are with another comparison of leading brands, Genie vs. Chamberlain. Garage door openers occupy very little of our mind space for a machine used several times daily and have a crucial role in our households. Naturally, we are only able to ignore them while they work well! To ensure your garage doors open and close like well-oiled machines, you must install them with the right company. Here is a short guide introducing two leading brands of garage door openers to help you make the right choice.
Genie Garage Door Openers
Since Genie launched its operation in 1954, it has worked hard and smart to become a household name for manufacturing quality garage door openers. The brand sells models in the chain drive, belt drive, screw drive, and wall-mounted categories to cover the entire spectrum of residential and commercial garage doors. Genie's Chain Drive 500, Signature series 3155D, StealthDrive Connect, and QuietLift Connect were the most popular garage door openers in 2022.
Chamberlain Garage Door Openers
With more than 40 years of experience producing garage door openers, Chamberlain is a significant participant in the market and stands on the reputation of its parent company, The Chamberlain Group. They are known for introducing cutting-edge systems, technologies, and safety features to please their customers. The most popular models among homeowners are the Chamberlain B2405 Whisper Drive, Chamberlain B6765, and Chamberlain B4613T Belt Drive Garage Door Opener.
Here is a more in-depth look at how the two brands compare.
Genie vs. Chamberlain Type of Mechanics Available
Let's start with the mechanics of Genie vs. Chamberlain. Genie offers belt drive, chain drive, screw drive, and wall-mounted garage door openers. In contrast, Chamberlain offers the same mechanical options, except for screw drive door openers.
Security and Safety
Regarding security and safety – Genie vs. Chamberlain, both brands are comparable in the various safety and security functionalities they offer smartphone users. Chamberlain works with the myQ app and Security+ 2.0, and Genie has Intellicode and Aladdin Connect. The brands have built these proprietary tools to integrate with their systems, ensuring door access codes are encrypted and hack-proof. Several models from both companies offer motion detection lighting, safety sensors to keep the door open in case something obstructs it, etc.
Chamberlain's myQ technology and Genie's Aladdin Connect are the gateways to automation and smart tech for both door tech brands. Users can use these to control and automate several smartphone remote functions. Some of these are remote monitoring of their garage doors via phones, receiving notifications in real-time, and tracking deliveries and other guests. Another practical function is remotely activating the opening and closing of their garage doors.
Battery Backup
Several models of both brands have integrated battery backups to ensure the garage doors work independently of the main electric power supply. This is a feature that can be really useful during bad weather or electricity outages. So you'll have battery backup in Genie vs. Chamberlain either way… it depends on the model.
Amazon Key In-garage Deliveries
Chamberlain's myQ app allows for an interesting feature – Amazon key, which lets delivery personnel place items safely inside the garage. The homeowner gets an alert and can view the delivery via remote camera access. On the other hand, Genie allows users to open the garage door remotely for deliveries; however, it is not as user-friendly as the Amazon Key feature.
Our Verdict
Both companies have been around for over 40 years and have proven the quality and longevity of their products. But Chamberlain has a slight edge in areas like warranty and in-garage delivery integration.
In terms of durability, Chamberlain comes out a bit ahead. The buzz in the market is that Genie, while quite durable, is overshadowed by Chamberlain's high-quality manufacturing. However, better quality comes with an additional price tag, and Chamberlain is pricier than Genie. On the other hand, Genie is trickier to install than Chamberlain, which is mainly for the DIY homeowner. Additionally, it is hard to find spare parts for Genie models, especially older ones.
It's critical to pick the suitable garage door opener to guarantee top performance, dependability, and safety. And to choose the best garage door opener, you must align your choice with the size of your garage, how often you use it, your budget, and any additional features you like.
I hope this article gets you started in the right direction. Meanwhile, browse their websites for more details. Or, call us at Door Tech, and we'll send a technician out to help you decide!