Dependable Customer Service
At Door Tech, we value reliable, prompt service. You can depend on us to provide you with your estimate, and complete all work in a timely, efficient manner. The professional technicians at Door Tech offer a wide range of services including the custom installed garage doors. We will work with you to formulate a solution to not only satisfy your operating needs but to fulfill design requirements. We strive to combine construction with convention.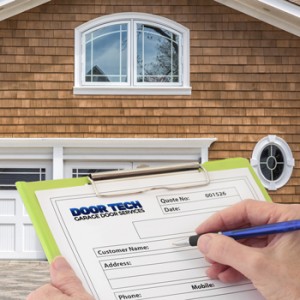 Door Tech provides you with the right custom or factory-built garage door for all your needs, at a price that is unbeatable. We pledge that you will be satisfied with our garage door design and installation. Our team of designers and installers strive to provide the most compatible design for your budget and style requirements. We want to provide you with the opportunity to create the exact look you envision for your home.
Our line of custom installed garage doors is available in a wide variety of styles. If you are looking for pure functionality and energy efficiency, we offer doors that are insulated and will provide energy cost savings. We also have a range of stylish designs that are sure to add a unique design element to your home. Our doors are reinforced, as well, offering an added element of safety to your home.
Contact one of our Door Tech installation experts to formulate a strategy to fulfill your custom garage door needs.