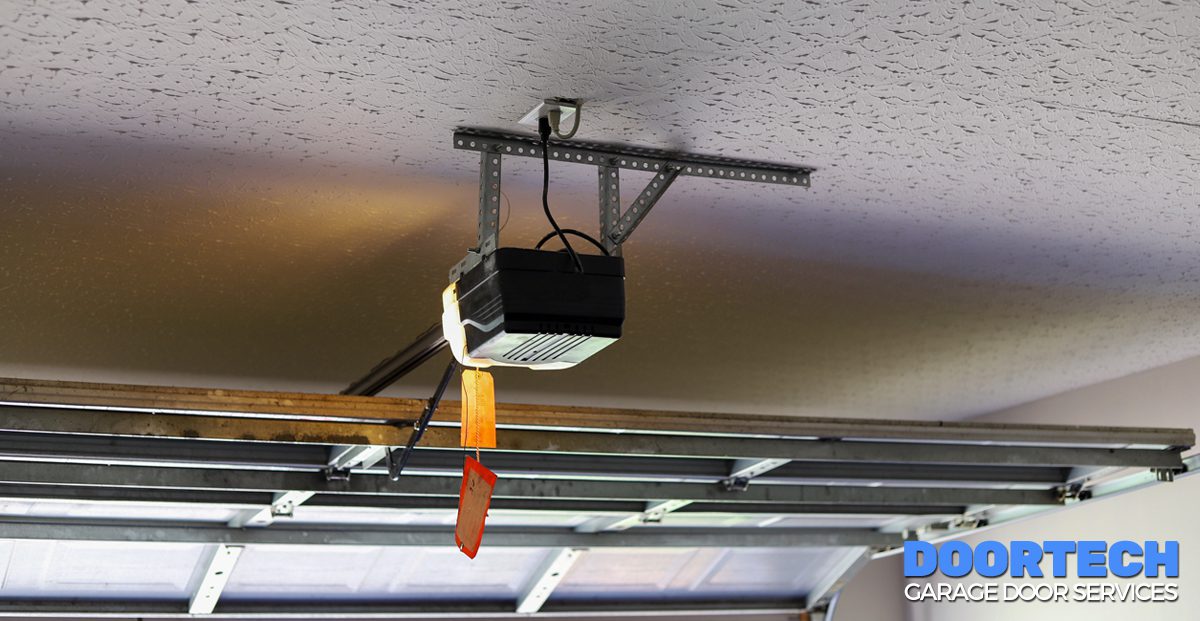 Are you in the market researching new garage door openers but struggling with what type to get? Between the different drive options, smart features, and various price points, it can be difficult to know which garage door opener is best for your home.
Types of Garage Door Openers
There are several types of garage door openers to choose from:
Belt-driven: These garage door openers use a rubber belt to move the door up and down. They are quieter than chain-driven garage door openers and usually need less maintenance but come with a higher purchase price for the convenience.
Chain-driven: One of the more affordable options, chain-driven garage door openers use a metal chain–similar to a bicycle chain–to power the trolley. They are typically the noisiest and require the most upkeep.
Direct driven: Also called wall-mounted or jackshaft garage door opener. The direct-driven opener uses a pulley and cable system equipped with a motor to raise and lower the door. While more expensive, they are the best option if space is an issue and you don't want a ceiling-mounted garage door opener.
Screw-driven: If you want a garage door opener with some speed, then the screw-driven garage door opener is probably the best choice. It uses a wire that wraps around a long screw to raise and lower the door. They are quiet but may require more maintenance, and you shouldn't use them for heavy garage doors.
Best for Heavy Garage Doors
If you have a heavy garage door, you need a heavy-duty garage door opener to lift it. The greater the horsepower, the better the opener is at lifting your heavy door.
The LiftMaster 8850W belt-driven garage door opener has a ¾ horsepower 12V-DC motor. While it's powerful, it's also quiet and works well in attached garages. It also has a battery backup and is equipped with MyQ technology which allows you to open and close the garage door with your smartphone or tablet from anywhere.
If space is an issue, the LiftMaster 8500W Jackshaft wall-mounted garage door opener may be a better option. It has the same horsepower, battery backup and is MyQ ready, though you will have to make sure you can plug it in nearby to work.
Best for Fastest Lift
Suppose you want a garage door opener that opens and closes quickly. In that case, the Genie Signature Series Max Performance 4063-NMSV two-horsepower screw drive opener is a great choice. Genie developed it for 7-foot doors, but a separate extension kit can work with 8-foot doors.
This Genie model also has smart home access and works with Alexa, Google Assistant, and Samsung SmartThings. There is no hub required for voice control. This screw-driven garage door opener can handle heavier doors with the two-horsepower motor. It can also handle heavier doors than other models.
Best for Quiet Access
If you're looking for a quiet garage door opener, especially for an attached garage, consider the Genie StealthDrive Connect 7155-TKV. This belt-driven garage door opener has 1.25 horsepower to handle some of the heavier garage doors. However, it's limited to seven-foot doors or eight feet if you buy a separate extension kit.
Like the other Genie models, it can be controlled from your smartphone or tablet and has a battery backup. There's a wall console for inside access and a wireless keypad, plus Genie's Safe-T-Beam system for added garage door safety using infrared beams of light. The garage door opener is simple enough to install yourself.
Choosing a Garage Door Opener
If you're still struggling with the best garage door opener for your home, or need help getting it installed, call us at Door Tech in Bowie, Maryland. With so many options available, it's hard to know the right system to put in place. We can schedule a free consultation to help you choose the perfect garage door opener for your needs and budget. You can have it installed professionally, so you don't have to do it yourself. When it comes time for maintenance, we can handle that too! Don't struggle with deciding on your next garage door opener. Let us help at Door Tech!