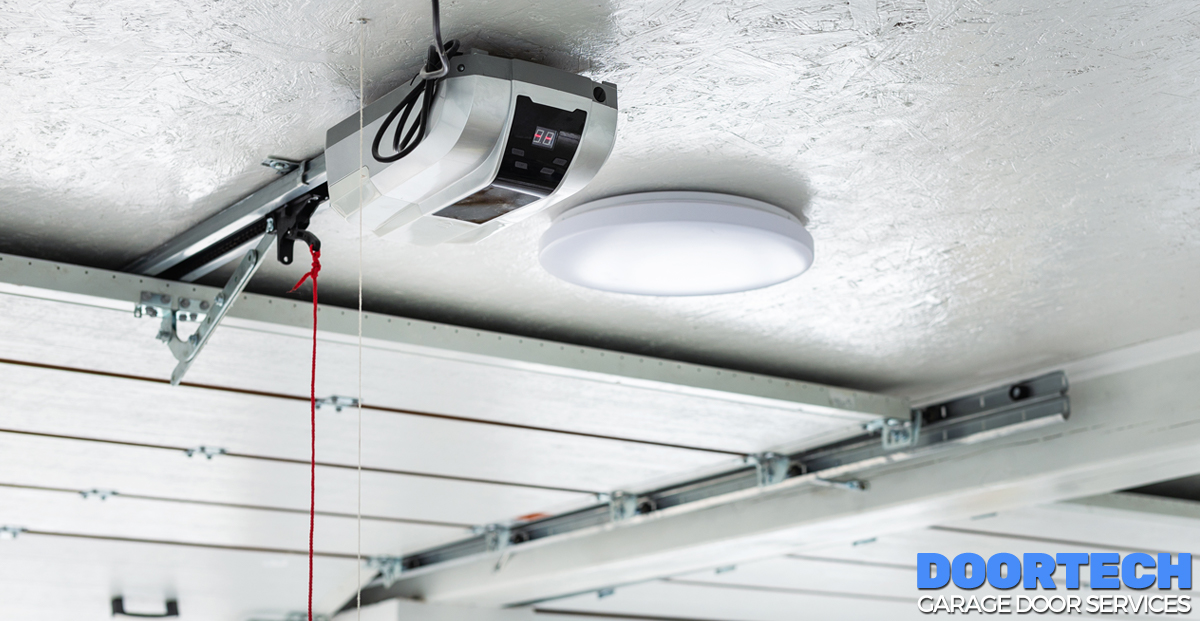 If you are in the market for a new garage door opener, have you considered a wall-mounted garage door opener? One of the best features of a wall mount garage door opener is the space-saving design. This allows you to maximize the space in your garage.
We've reviewed the top two brands of wall-mounted garage door openers, the Chamberlain and Genie.
Chamberlain Wall-Mounted Garage Door Opener
Chamberlain has two top models of wall mount garage door opener. One has a battery backup while the other does not.
The Chamberlain wall-mounted ultra-quiet garage door opener weighs 31 pounds. It comes with a lifetime warranty on the motor, a 5-year on parts, and a 1-year on accessories. This model is 6.8" in depth, 16.25" tall, and just over 6" in width and attaches to a 7" rail length.
The ultra-quiet feature almost eliminates noise and vibration, which will not transfer and be heard inside the home.
You can customize alerts and notifications on your smart garage door opener with the myQ app, which also tracks every time the garage door opens and closes. Chamberlain has proprietary full-encryption technology, which prevents hacking.
Similar to this model is the Chamberlain Direct Drive with battery backup. This particular Chamberlain model comes with the same warranty provisions as the previously mentioned model, but it is bigger and weighs more. The Chamberlain Direct-Drive is 10" deep, 28" tall, 12" wide, and weighs almost 37 pounds.
The Chamberlain wall mount garage door opener comes with built-in Wi-Fi, which allows you to control and monitor your garage door using the MyQ app on your smartphone.
Both models have an Automatic Garage Door Lock accessory, which automatically locks the garage door when closed for added security. The first Chamberlain model has CFL bulbs, while the second has LEDs. The battery backup in the second model ensures the garage door will always work, even if the power goes out.
The second model is about $50 more than the first model but has added features to make the more expensive model worth it.
Genie Wall-Mounted Garage Door Opener
The Genie wall mount garage door opener is comparable to the higher-priced Chamberlain. It does not have the ultra-quiet feature the Chamberlains do. But, the Genie comes with Aladdin Connect smart home control, which works with Amazon Alexa and Google Assistant.
The Genie has an integrated battery backup system, a wireless wall console, and a remote garage door lock. The battery backup can complete up to 50 cycles after power failure.
The Genie Signature Series has a self-diagnostic Safe-T-Beam sensor system to alert if there is a malfunction in the garage door. The Safe-T-pulse internal slack cable detection system ensures safe door travel.
This model should not be used on 1-piece swing-style garage doors and requires an electrical outlet within six feet of the garage door opener. The Genie model can lift up to 850 pounds and garage doors up to 18 feet wide.
Installing Your Wall Mounted Garage Door Opener
No matter what wall-mounted garage door opener you choose, the professionals at Door Tech in Bowie, Maryland, can install it for you. Our trained professionals repair, replace, and install garage doors and openers in the surrounding Maryland counties.
Contact us today for a free estimate on installing your new wall-mounted garage door opener.