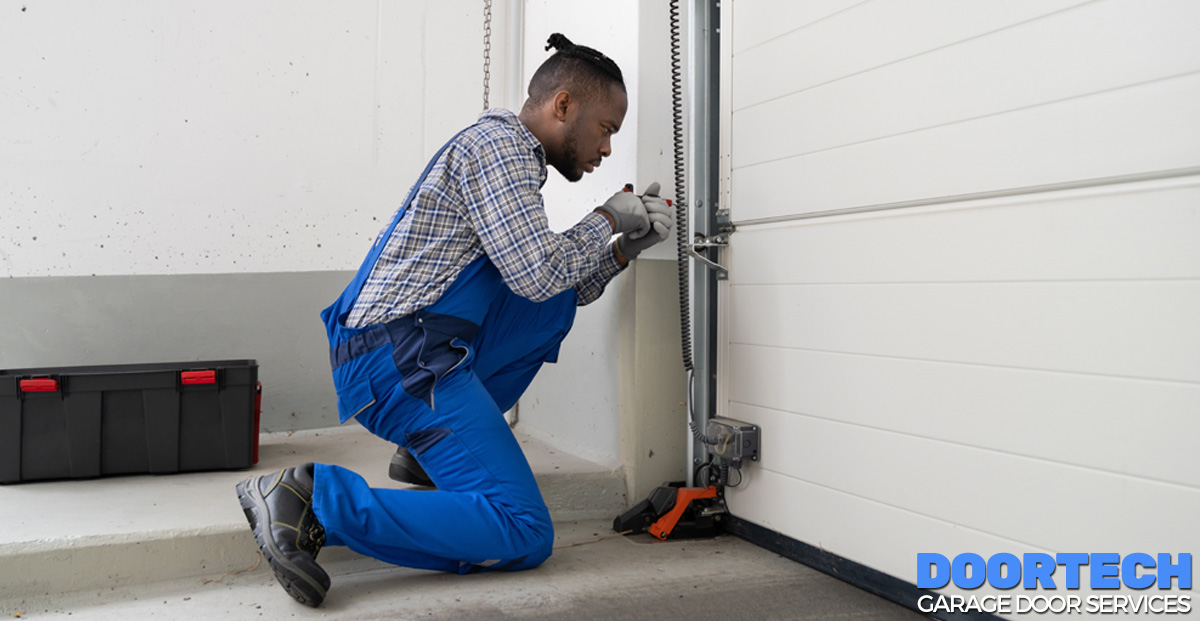 Did you know homeowners can preform their own garage door inspections.  Homeowners can take their garage door for granted, expecting it to work flawlessly whenever they want to enter or exit their home. Your garage door must operate correctly and safely as the main entrance and a likely daily usage item.
Even when your garage door is functioning without issue, you should still do an annual inspection. The inspection can reveal potential problems and save money if you catch the issue before it becomes a bigger problem.
The Importance of Annual Garage Door Inspections
Depending on how often you use your garage door, it can go up and down more than a thousand times a year. Many moving parts need to work together to keep your garage door working.
Here are five reasons an annual garage door inspection is essential.
Costs
Buying a garage door can be quite an investment, but one that can provide a reasonable rate of return if you plan to sell your home. As with any appliance, fixing a minor problem is almost always cheaper than waiting until the problem gets bigger.
Holding off on minor issues could prevent the door from working. Or worse, the door could become stuck while opening or closing. Not only could this affect your energy bills, but it can also create a security issue.
Another reality of having an immobile garage door is the strain it can put on other systems. It can cause them to weaken, which could create more significant issues down the road. Inspecting your garage door once a year can identify any weaknesses so you can correct them before they happen.
Appearance
The older your garage door is, the more likely it is to fail. An annual inspection can save you money on repairs and energy bills but also identify when the garage door is ready for an upgrade.
An upgrade may mean a fresh coat of paint, accessories, or a brand-new door. Whatever you decide, an updated garage door can help your home appear well-maintained and improve its curb appeal.
Safety
The U.S. Consumer Product Safety Commission estimates around 30,000 garage door injuries annually. An annual garage door inspection can identify any problems that could cause the door to malfunction so we can fix them before someone gets hurt.
For this reason, most automatic garage doors today have an automatic stopping function or safety reverse. But the function can fail without regular maintenance, which could lead to a preventable accident.
Security
A garage door is a point of entry into your home. A garage door that doesn't function properly could leave your home and family at higher risk for a break-in or other crime.
Performing an annual inspection can ensure your garage door looks as good as it functions. With no obvious point of entry, a would-be thief will think twice before trying to enter your home.
Ensure the garage door shuts completely, you've accounted for all remotes, and there is a secure passcode to open the door. These are other ways to ensure your home and family's safety.
Weather and Environment
Maryland homeowners can deal with sweltering summer temperatures and freezing winter months. A properly functioning and lubricated seal can prevent the garage door from freezing in the winter.
Another advantage of a properly sealed garage door is keeping animals outside. Birds, rodents, and other pests could find your garage an inviting place to get out of the elements
Garage Door Inspection In 7 Steps
1. Inspect the entire door.
2. Tighten any loose nuts or bolts.
3. Check the cables, chains, and springs.
4. Inspect weather seals.
5. Check sensors and the reverse safety features are working correctly.
6. Test the manual release handle and ensure household members know how it works.
7. Inspect all wall-mounted buttons and remote controls.
Completing A Garage Door Inspection
Don't have time to inspect the garage door yourself, or prefer a professional to do it for you? Call Door Tech at 410-721-1200 to schedule an inspection today.