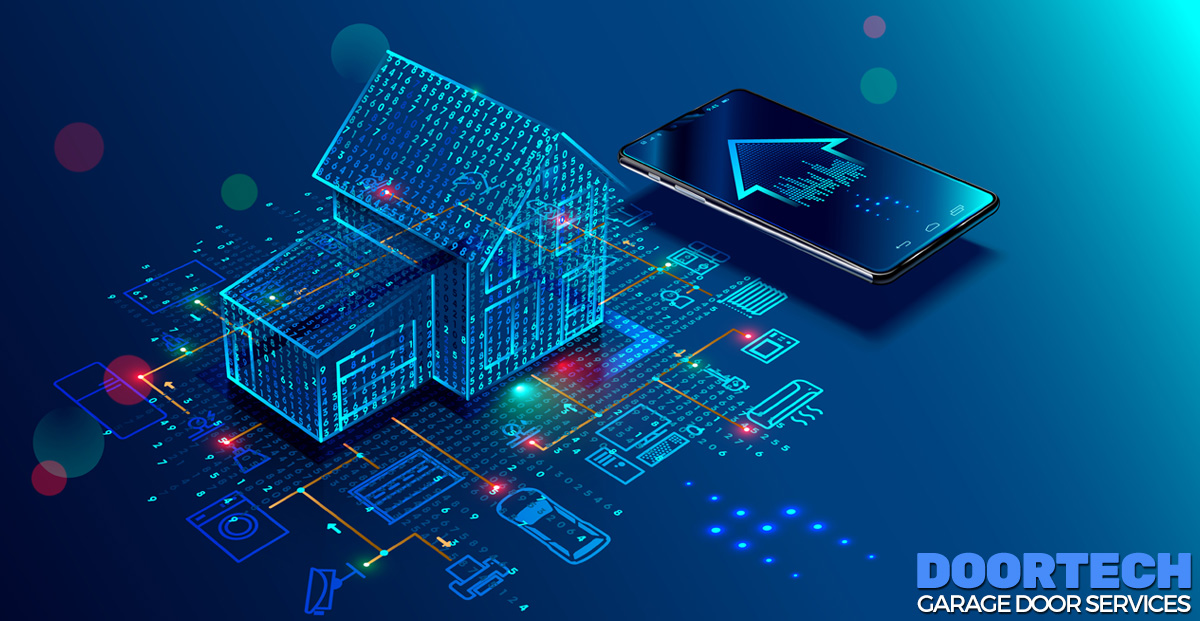 With almost everyone owning a smartphone these days, it's no surprise that there's an app for nearly anything. If you have a smartphone-controlled garage door opener, there may be an app on your phone or tablet to download that can control your garage door.
Although this option may be an excellent idea for many, it's not always the right choice for everyone. Whether you're looking for a solution for your smart garage door or you're looking to upgrade. If you are considering one, knowing the pros and cons of smartphone-controlled garage door openers can help you decide if it's the right fit for you.
Pros Of Smartphone-Controlled Garage Door Openers
Pro #1: Convenience
A smartphone-controlled garage door can offer convenience, allowing you to open or close the garage door even if you aren't at home. It also has other features, like setting a timer to open or close it at a set time. You can also set up alerts to notify you if the door gets left open or someone tries to force the door open.
Pro #2: Improved Safety
Another pro of a smart garage door opener is the detection and sensor systems. The system can detect if anything is in the way of the door as it closes and prevent it from closing if there is. It can also trigger the door to reverse if the opener senses something isn't right. These safety features can prevent injuries or death with pets and children in and out of the home.
Pro #3: Linkable With Other Smart Home Devices
If you enjoy having a smart-enabled home, you likely have lights, door locks, smoke detectors, and a security system with cameras. Depending on your smart garage door opener, you might be able to integrate your garage door opener with other home automation apps.
Pro #4: Harder To Lose Than A Remote
You're not alone if you've ever had to go through your car or house to find your garage door remote. This frustrating scenario can make you late for work or an event and cost you money if you have to buy a new remote.
With a smartphone-controlled garage door opener, you won't lose your remote unless you lose your phone. You also don't have to worry about replacing batteries since all you have to do to have a working garage door opener is have a charged phone.
Cons Of Smartphone-Controlled Garage Door Openers
Con #1: Potential For Hacking
Although a smart garage door opener can provide an extra layer of security, being connected to your phone leaves it vulnerable to hacking. Ensure you download the smartphone app from the official source and review the app's privacy settings to deter hackers. Setting up a strong password for your phone can also add a layer of protection.
Con #2: Not A DIY Project
Although some DIY homeowners are confident in their ability to install a garage door, a smart garage door is better in the hands of professionals. Smart garage door openers are more complex and have many moving parts and intricate wiring that could be costly to replace if you make a mistake. It's worth the cost of hiring a professional to install your smart garage door opener to ensure it's right the first time.
Con #3: More Expensive
The convenience of a smart garage door opener also comes with a higher price tag. With Wi-Fi capabilities, motion detectors, and other features, expect to pay at least a few hundred dollars more than a traditional garage door opener. Although professional installation will add to the cost, the technology may still be worth it to the modern homeowner.
Hiring the Pros
Whether you're still shopping for a smart garage door opener or have one and are ready to install it, the professionals at Door Tech in Maryland are ready to help. Call us today to schedule a consultation. We can help you decide on the right system for your home or have a technician install it and help you set up your system.