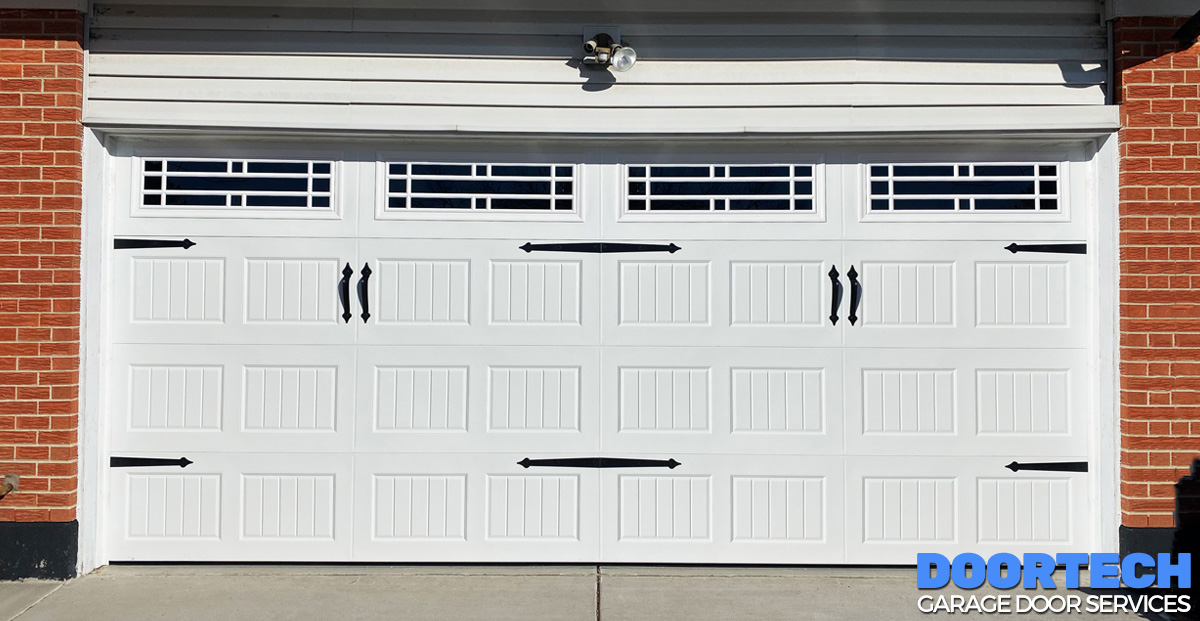 Picking a new garage door design can be daunting with all the choices on the market. If your garage door has seen better days, you may be considering a replacement. People change out their garage doors for numerous reasons. Usually, homeowners buy a new garage door when the old one has passed its life expectancy. Door Tech has been helping homeowners pick out the best garage door to suit their needs for years. Come to our showroom for an overview of the large variety of garage door styles. Call Door Tech at 410-721-1200 so we give you our undivided attention upon your arrival.
Popular Garage Door Design Styles
The most popular style of residential garage door is the sectional door. Hinges connect the horizontal panels. Rollers are on each side of the garage on parallel tracks for smooth opening and closing of the door. They can vary considerably in cost based on the material and style you choose. Tilt-up canopy and tilt-up retractable garage doors are also popular options. Features to look for are very personal when selecting your garage door design. After all, your garage door is the first thing people see when they come to your house.
Best Garage Door Colors
Do you want a garage door color that pops? Did your house get a fresh coat of paint? If so, you may want to add some extra pizzazz to the front of your house. A colorful garage door design that complements your home's color scheme can make your home stand out. Check the bylaws before proceeding if you live in a community governed by a homeowners association. If you don't, keep in mind less is more. An off-the-charts crazy color isn't in anyone's best interest.
Garage Door Windows Or Not
Door Tech has many styles for you to choose from when it's time to replace your garage door. Many people opt for a fancier door with windows and carriage hinges for aesthetics. Some people prefer complete privacy for their garage space. Many people use their garage space for a game room, she-shed, or man-cave. Others may have expensive tools and machinery they prefer to keep out of sight to deter thieves. Whatever your preference, Door Tech can help you choose the garage door design best suited to your lifestyle.
Is A New Garage Door A Good Investment
Your garage door's curb appeal is essential whether you plan on selling your home soon or not. The Cost vs. Value 2021 Remodeling Magazine's report says that the ROI on garage door replacement is 93.8%. That's an excellent use of your money on a home improvement project. Not all remodeling projects offer that high of a return on your investment.
You've decided it's time to replace your tired, worn, squeaky garage door. Choosing the best garage door design for your home can be daunting with so many choices available. Call Door Tech, so you can take advantage of our years of experience helping people like you. You can see all the options and make an informed decision about what is best for you. Schedule the installation, and take a deep breath. We'll take care of the rest.