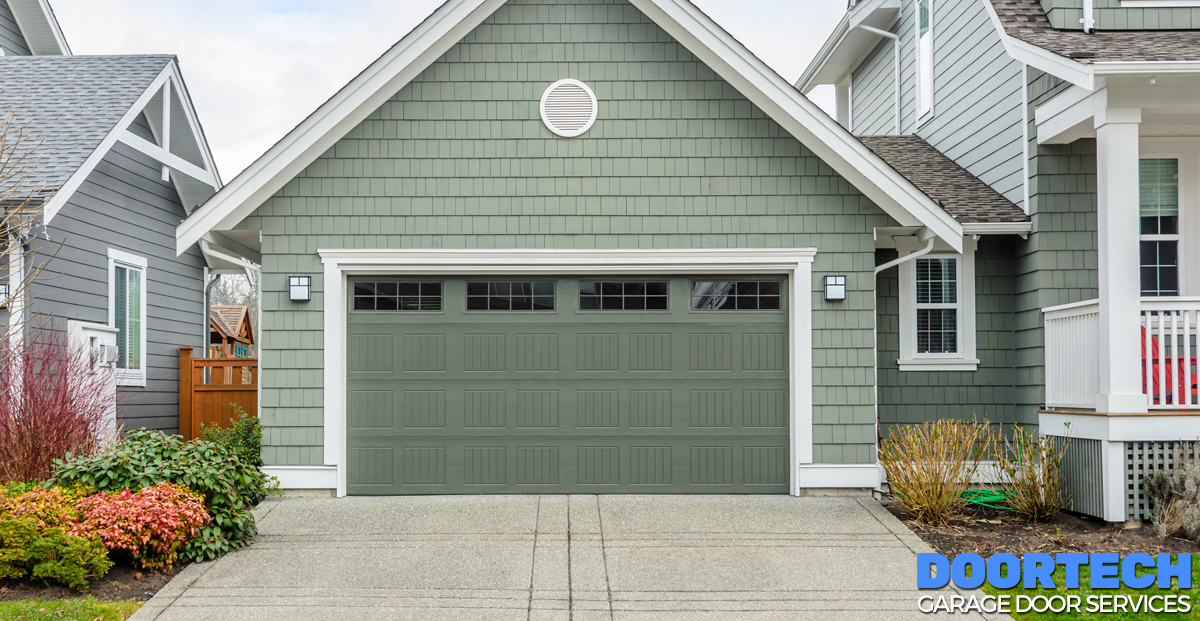 Choosing the right garage door color combination can be challenging. Especially when you want to balance your garage door with your siding. Regardless of the building's exterior colors, several garage door colors can match it. Depending on the siding/door color combination you choose, it can offer an unexpected pop of color. Overall, the colors you chose should complement your personality and style.
Tips for Picking a Garage Door Color that Can Match with the Siding
Picking a garage door color that will bring out the best look for a house is a task. However, with the following tips, you are likely to nail it and get that dazzling look!
Contrast
Choosing a garage door color shade that contrasts with the brick exterior works well if you want your house to stand out from other homes in the neighborhood. A bold and robust contrast will draw attention to your brick while adding a pop of color to your home. For example, you can try to go with bolder colors such as royal blue or kelly green to create a unique, eye-catching pairing with your brick facade.
Neutral Colors
These colors are always a safe bet because they always integrate with most styles. Generally, we link medium colors to harmony. Neutral colors also balance out a bolder choice. If you're not sure about what shade to pick for the garage door, borrow a cue from the mortar used for the brick facade. For example, if you have green siding, you can go for a neutral garage door color like beige.
Matching Colors
Matching colors give you a cohesive look. Select a garage door color that matches your brick. Your home will have a uniform appearance. Pairing the brick with a garage door in the same color makes it hard to determine where one surface material ends and the other starts. Furthermore, it also gives room for a broader choice when you go for a trim color because you'll only need to coordinate with one shade.
Warm and Cool Colors
We separate colors into warm and cool tones. This determination is based on their position within the color spectrum. For example, reds, yellows, and oranges are in the warm colors category. Blues, purples, and greens are cooler tones. Warm colors tend to evoke excitement. When contrasted with cool colors, warm colors may appear larger, more prominent, and easier to view. Elsewhere, cool colors make you feel relaxed and are calm to the eyes. Selecting a color based on this classification will be based primarily on your personal preferences.
How to Decide On the Right Color
Choosing the right color garage door boils down to the following factors…
Personal taste
This is the most important criteria you should use when selecting a color for your garage door. Suppose your personal preference is a warm cozy exterior. In that case, you can go for garage door colors in medium, like brown shades, beige, and darker green.
Practicality
Always go for low-maintenance colors that are least likely to fade. Notably, south-facing homes are susceptible to the maximum amount of sun exposure. Therefore, light-colored garage doors tend to show more dust and dirt.
Architectural Elements
You need to coordinate your garage door colors with the homes' architectural features. For example, some shades of gray complement several types of brick colors. Furthermore, contemporary residences come with distinctive window shapes and pitched roofs that may blend more easily with modern light-colored garage doors.
Consider Homeowners Association Rules
Check with your neighborhood HOA to see if there are any restrictions on the exterior colors of your home. In most cases, communities often restrict garage door colors to those that are neutral and match other homes in the neighborhood.
Call for Help if You Need It!
At Door Tech, we're always willing to lend a hand in designing your garage door project! Give us a call today, and let's choose a color for your new garage door!