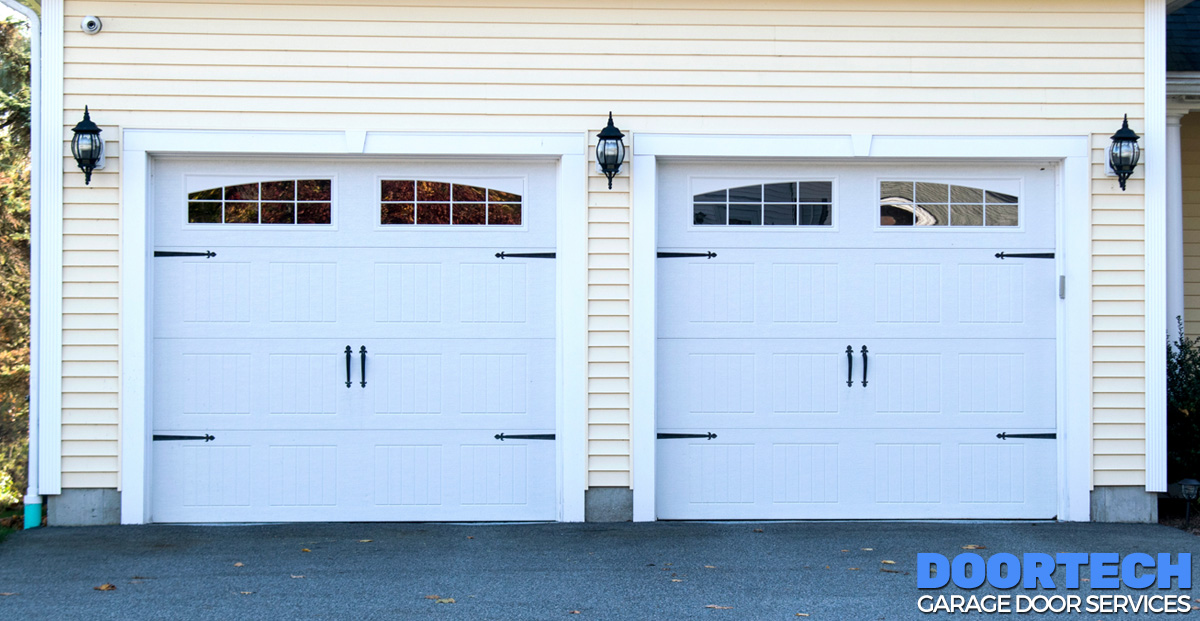 With so many garage door sizes, which should you get? Especially if you're undertaking a home remodel or having a new home built?
There are many factors to consider before making a decision. Are you remodeling your home, or is it simply time to replace your existing garage door? Having a new home built? Each scenario has numerous choices, and here at Door Tech, we can help you navigate through the information. You'll make an informed decision that will best suit your needs.
What Are Standard Garage Door Sizes?
A single-car garage door on a single-family home will be 7 to 8 feet high by eight to ten feet wide. Older homes generally have openings of seven feet tall by eight feet wide. The sizes have increased over the years due to vehicle sizes getting larger.
Doors for a two-car garage will be 7 to 8 feet high and 16-18 feet wide. If you have an RV you can store on your property, you'll save storage fees if you can keep it out of the elements in the safety of your garage. Many garage doors for RVs measure 10-14 feet high by 10-14 feet wide.
Two Single Garage Doors or One Double Garage Door?
Not remodeling the garage? The most logical choice is to go with the current opening or openings of your garage. If you're remodeling, think about the aesthetics of one vs. two doors. What do you find most appealing?
What Will You Use Your Garage Space For?
You may want to park a car in one half of the garage and have a pool table in the other half. In that case, two separate openings may better serve your needs—no need to open both sides while the epic pool game is underway.
A three-car garage often has a two-car opening and a single-car garage door. If you're remodeling or under new construction, and are considering three separate garage doors, take a drive around neighborhoods so you can visualize the difference. This will also give you a chance to look at different styles.
Insulated garage doors don't affect the look of the doors but can save you money. If your garage is attached to the house and the garage doors aren't insulated, you are leaking money every time you enter or exit your garage for your home.
If you are making part, or all of the garage, a she-room, man cave, or yoga area, having the garage doors insulated and the correct size can make the difference between a pleasant area versus an uncomfortable space.
Picking the Right Garaged Doors Sizes
If your choices are wide open, you put on your thinking cap and fantasize about the best ways you'll use the space on an everyday basis.
Most people don't park two cars in a two-car garage. Not surprisingly, garage stats said 20% of the people couldn't even park in their garage. And a whopping 55% of Americans are in their garage for at least one to two hours a week doing things they love and enjoying that extra space.
Getting the Right Size Garage Door
Whether you are planning a craft room in part of your garage or need to make sure the snowplow on the front of your truck will fit, we can help.
Suppose you are a serious DIY person after you calculate the dimensions. In that case, you'll still want to double-check before ordering a new garage door.
Call Door Tech and we'll make sure you are on your way to a new, top quality garage door that fits perfectly.