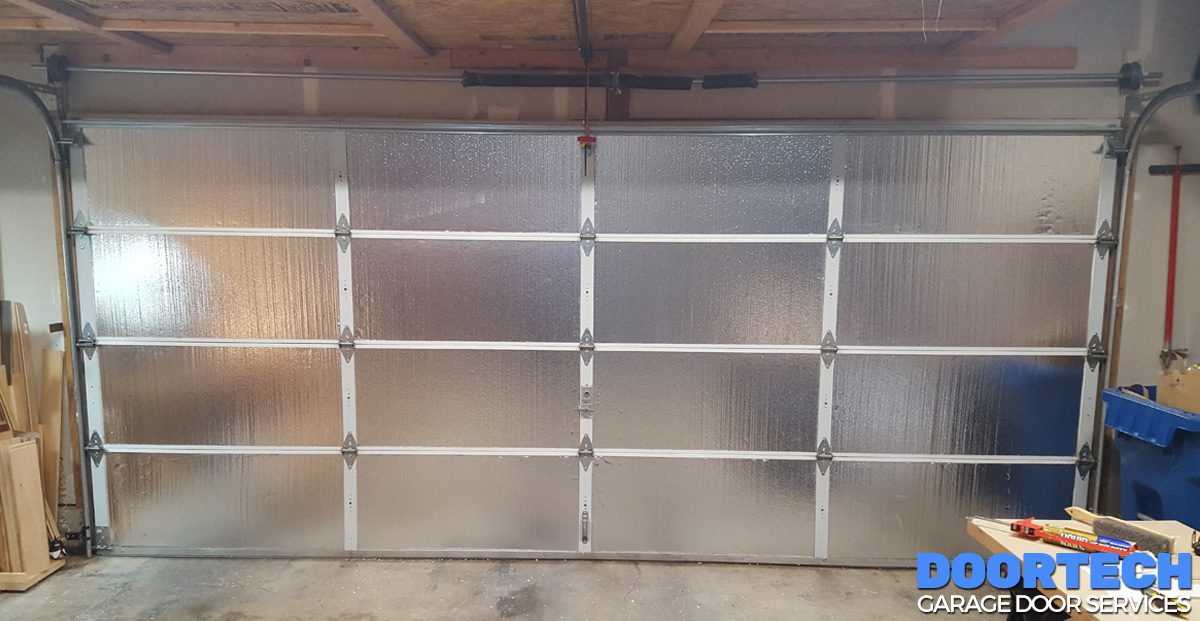 You could save with an insulated garage doors. With energy costs creeping up, Maryland homeowners are trying to find ways to lower their heating and cooling bills. An attached garage that shares a common wall with the house may be an energy loss source, so that it could be an area of concern.
Not sure if you have an insulated or uninsulated garage door? An uninsulated garage door is typically a single piece of wood or metal. But an insulated garage door has a front and back panel with insulating material between the panels. An insulated garage door will be much heavier than an uninsulated garage door.
So, do you need an insulated garage door? Here we share the benefits, so you can decide if it's worth it to upgrade or replace your existing garage door.
The Benefits of Insulated Garage Doors?
An uninsulated garage door is usually cheaper, but it only acts as a barrier into your home. There are several benefits to choosing an insulated garage door.
Durability
Most insulated garage doors are built with more durable materials, like aluminum and steel. While still lightweight, they are more resistant to dents and dings from kids playing or riding bikes, lousy weather, and general wear and tear.
Not only are insulated garage doors more durable, they usually have a longer lifespan than uninsulated doors. The insulation also protects the garage door parts by limiting extreme temperature swings, extending their lifecycle, too.
Energy Cost Savings
As we mentioned before, an uninsulated garage door can be a source of energy loss. The building standards for garages aren't as strict because they do not consider the garage part of your living space. There could be air gaps that allow hot air to enter during the summer and cold air to come in during the winter.
An insulated garage door can keep your garage warmer in the winter and cooler in the summer. Not only does this help with your home's energy costs, but it can also increase the lifespan of chemicals, paint, and other household items commonly stored in the garage.
Insulated Garage Doors are Quieter
You may have heard your family members complain about the noise when your garage door opens and closes, especially if it's near your living space. While a lack of maintenance may be the cause, it could also be the door itself. Uninsulated garage doors are lighter, so they tend to be noisier when moving up and down in their tracks. Since insulated garage doors are heavier and made with more durable materials, they're usually quieter when opening and closing.
Vehicle Protection
Just like an insulated garage door can protect items stored in your garage, it can also protect your car during extreme weather. Though temperatures are close to outside temps with an uninsulated garage door, they are warmer during winter and cooler during summer with an insulated garage door.
Freezing weather can harm your car significantly, causing:
The battery to die sooner than its expected lifespan
Fluids to thicken
Tire air pressure to go down
Spark plugs and wiring to go haywire.
Ask the Pros About an Insulated Garage Door!
Do you still have questions about installing an insulated garage door? Not sure if it's worth it for your home? Ask the professionals at Door Tech Garage Door Services. We can help you decide if you need an insulated garage door. If you do, we can help you find the right one for your home and professionally install it for you. Contact us today about an insulated garage door.