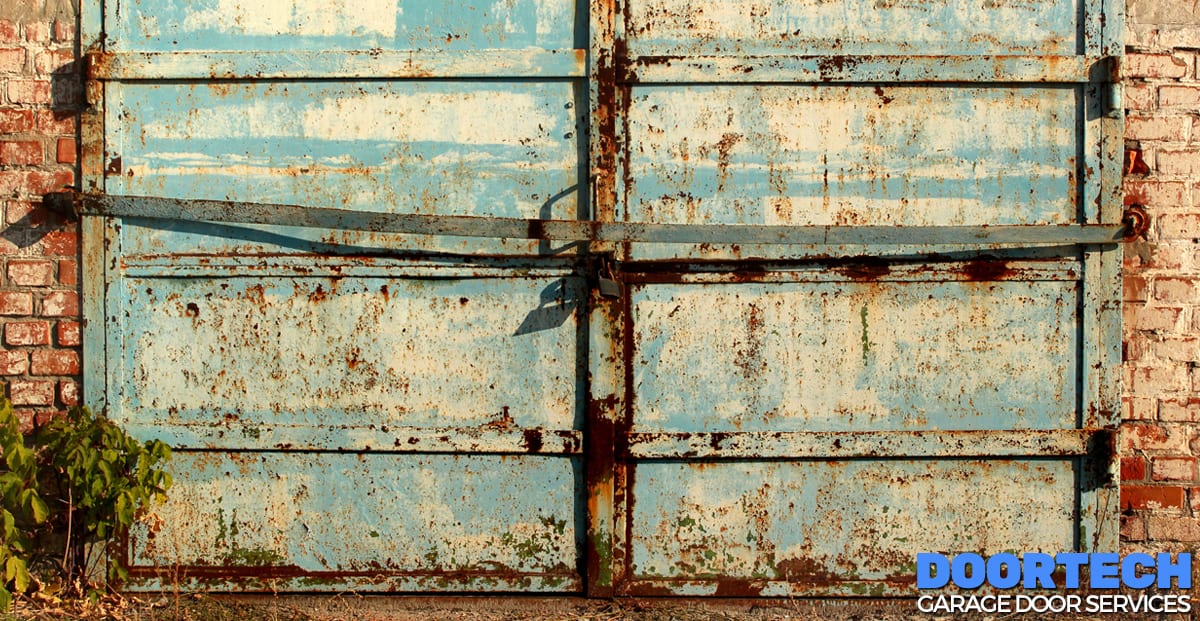 Do you know your garage door lifespan? Garages serve more purpose than just a place to store your car and other household items. Your garage door is an entryway into the home. It also provides curb appeal, adding to your property's overall appearance.
It's essential to maintain and repair it regularly to increase your garage door's useability and overall lifespan. You may wonder how long do garage doors last? It would be best if you considered several factors to determine the lifespan of your garage door.
What is the Lifespan of a Garage Door?
On average, you can expect to get between 15 and 30 years of life out of your garage door. However, several factors influence the life of your door.  What is the door material used, and what type of opener hardware does it have? What type of environment do you live in?  Aditionally, how do you use the garage door?  All these considerations make a difference.
Here are some more factors to consider when determining how long your garage door will last.
Price: Like many items around your home, you get what you invest in the garage door's initial cost. High-quality door sections, springs, hinges, pulleys, and tracks will almost always outperform and outlast cheaper materials. The same goes for your garage door opener.
How often it's used: Torsion springs can generally get between 15,000-20,000 open and close cycles. However, tension springs can get about half of the same cycle life. If you use your garage door multiple times per day, the garage door opener's life cycle is much shorter.
Material: Living in Maryland, garage doors are subject to variances between hot and humid conditions to brutal cold with ice and snow. Wood doors may not hold up as well to the living conditions compared to steel or other more durable materials.
Care: Regular maintenance will extend the lifetime of your garage door and the opener by keeping the moving parts in working order longer. Parts may wear out while the garage door is still good, so routine inspection of moving parts is key to making your garage door last. Wood panels can be painted to protect against the elements, while steel can be waxed to protect against wet conditions.
Signs You Should Replace Your Garage Door
If you've had your garage door for a while, you should know the signs your garage door shows to indicate it's time to be replaced.
Visible signs of wear and tear include: cracking, warping, or rust if you have a metal door. If the job is too much for a thorough cleaning or painting session to handle, it's probably time for a replacement.
Frequent failures: Just like an old car, one failure after another can be a sure sign the garage door has seen better days. When the parts begin to stack up, it can be more cost-effective to replace the entire door. If you're unsure, pros like the ones at Door Tech can take a look to see if we can extend the life of your garage door or its parts.
Damage: If the door is damaged by something running into the door or from weather or another incident, it could be time for a new door. Structural damage could pose a hazard, which can be dangerous if people walk under the door when it's open.
When to Call the Pros
At Door Tech Garage Door Services in Gambrills, Maryland, we can maintain your current garage door to make it last as long as possible. Alternatively, we can replace your existing door with a new one. Just need a part replacement or schedule a maintenance call to check out your garage door?
We do all things garage doors and openers here at Door Tech. Call us today at 410-721-1200 for a free consultation.