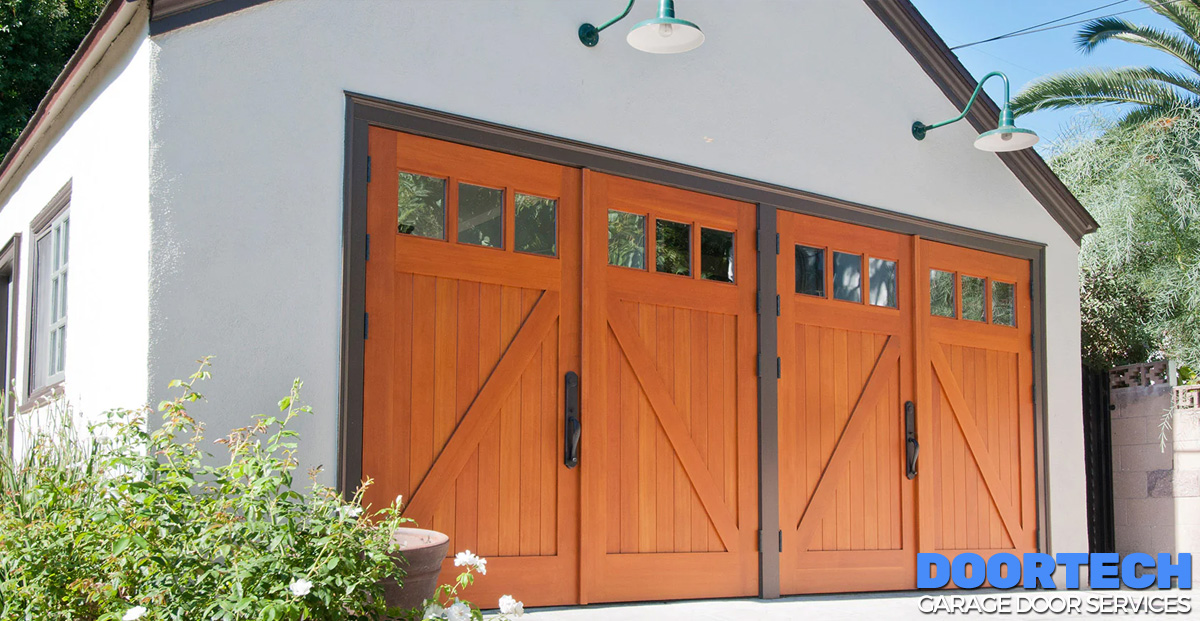 Are you considering upgrading to carriage doors for your garage? The garage doors are one of the first things people notice when they come to your home. They are a reflection of your style and taste. Carriage doors have long been a symbol of class. Their history dates back to the times of horse-drawn carriages and are reminiscent of simpler, more elegant times. The standard aluminum garage door serves its purpose but lacks a higher quality and luxurious appearance. Keep reading for more information on carriage doors.
How Carriage Garage Doors Work
Anytime you can reduce maintenance when you're a homeowner, it's worth consideration. Most garage doors run on tracks attached to the sides and ceiling. Quite a few moving parts need regular servicing to keep the door running smoothly. The homeowner must have the motor serviced regularly. Thin aluminum doors are easier for a criminal to break into because they are a much lighter product. If the track gets jammed when you try to open the door, your car is stuck outside or inside. Either way, you're stuck!
There are springs, tracks, and a motor on standard garage doors that all need regular servicing. Carriage doors swing open manually or with an opener. They have fewer moving parts and consequently require less maintenance. A thick carriage door is difficult for thieves to break into because the wood is substantially thick and durable. The hardware is equally sturdy and luxurious as well.
Are Carriages Doors Popular?
You pick a style of garage door from lots of choices based on a variety of reasons. The household budget is most often at the top of the list. The functionality of each garage door is an important consideration, especially when it comes to maintenance. Carriage doors are popular for the garage because they free up your garage's ceiling space. The doors open outwards instead of sliding up a track blocking the ceiling area. They also represent luxury due to their beautiful nature. In short, carriage doors are timeless.
Other Carriage Door Considerations
The easy gliding or swinging doors don't come with electricity. Having your car stuck in your garage when you're late for work is a massive headache. Overall, fewer moving parts mean there is less to break down. If you want an automatic garage door opener, your contractor can easily add that feature. The heavy wood or steel door can save money on your electric bill. Carriage doors help keep the warm air in a heated garage. Are you a DIY person? Installing garage doors yourself will require assistance and serious attention to detail.
Carriage Garage Doors Style Options
Carriage doors come in a large variety of options. A licensed contractor can present examples of modern, traditional, or country styles to help you decide. You can drive around neighborhoods to see what different doors look like. The manufacturer can fabricate carriage doors out of unusual types of wood. Your hardware choice can compliment your home's exterior. Many people opt for windows to let light into the garage and add frosted glass for privacy. Creatively customize your doors and hardware to personalize them to your taste, and add value to your home.
Custom carriage doors will improve your home's style and curb appeal. Door Tech can help you choose from the vast options when installing new garage doors. Call Door Tech now for the professional, personalized service you deserve!