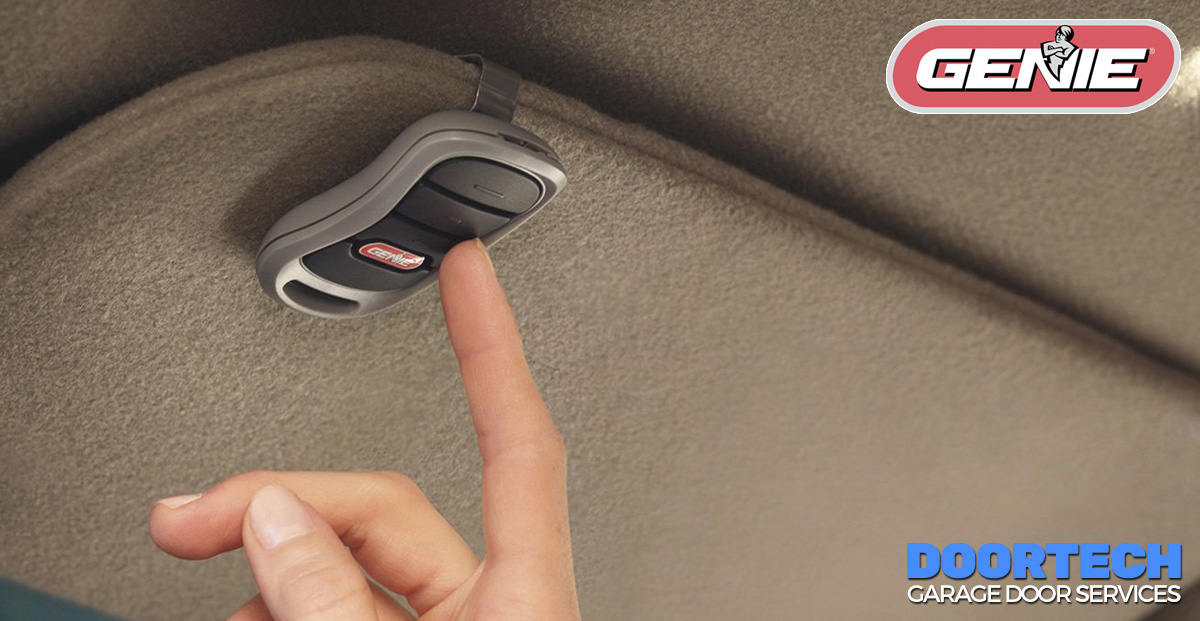 When you think about garage door openers, think of it like this… Every family has that one heavy lifter they all bank on and trust. And while in human terms, that is an adult, in material ways, the heavy lifter of the house is the garage door opener!
Used multiple times daily and responsible for the home's safety, a Genie garage door opener must be strong, secure, and easy to use. This makes choosing the right door tech critical for homeowners. To make this choice, you need to know what's available in the market, so here is a detailed breakdown of all the essential features of one of America's most trusted garage door opener brands – Genie.
Genie Garage Door Opener Features
Drive Type
Genie Door tech comes in 4 drive type models – The Ultra Quite Belt Drive, Chain Drive, Screw Drive, and Wall mounted. The broad portfolio offers customers a lot of variety and flexibility to choose from, keeping in mind their walls and wallets.
Standard Genie Garage Door Opener Features
Dual Frequency Technology
Genie provides its customers with its proprietary technology, which aids in finding the best line of communication between various Genie products. The system seeks 315 or 390 MHz frequency produced by the remote, thus ensuring the opener responds regardless of nearby frequency interference. This is of immense value for connecting door tech with its various wireless accessories, such as the remote.
Intellicode Security Technology
All Genie garage door openers come with in-built security tech that provides automated randomization of access codes from billions of combinations. The feature makes Genie's door tech safe against unauthorized access.
GenieSense
A special monitoring and diagnostic feature, GenieSense continuously tracks the operation of the garage door opener. It alerts users and takes action if there are any significant changes to the functions of the garage door opener. This is a critical safety feature to avoid injury while using the door.
Special Features
Apart from the standard features of all genie products, several particular features come with select models.
Ultra Quiet Operation
All the Genie belt drive models are well known for their whisper-soft functioning. The DC motor used in these models of garage door tech is for more compact houses where the garage is close to the living spaces.
Lighting System
Several Genie garage door opener models have an integrated two-bulb automatic lighting system that ensures users never have to navigate their garages in the dark.
Easy Setup
Genie is well known for its ease of installation and use. Many of the company's door tech comes with BILT 3D Interactive Instructions and SmartSet. This user-friendly push-button programming system makes the setup super fast.
Aladdin Connect
This Genie-only system allows users to control their garage door remotely with smart devices. With a simple smartphone and Aladdin Connect app, homeowners can track all the activities of their garage doors – from anywhere and at any time. It is also available as a retrofit kit for older models that did not have this feature built-in.
Battery Backup
Many Genie models also include a battery backup, ensuring that garage doors, remotes, and keypads work independently of primary power sources (Genie backups provide up to 50 cycles from the initial power failure). This is a critical safety feature during power outages, natural disasters, etc.
Warranty
Genie's manufacturing process ensures that its motors and gearboxes are sealed from the environment on the factory floor to provide long-lasting, reliable performance. You can have peace of mind when you purchase a Genie garage door opener. The engine and gearboxes come with a Limited lifetime warranty, and core parts (for most models) come with a 5-year warranty. All accessories and battery backup systems have 1-year warranties.
Convenient Pre-Programmed Remotes
With Genie's hallmark focus on homeowner comfort, ready-to-use remotes are a simple feature that users can expect. Completely eliminating setup effort or time, the remote comes fully programmed and connected to the garage door opener.
Compatibility With Third-Party Devices and Software
Genie garage door openers are 100% compatible with HomeLink® & Car2U® in-vehicle remote control systems. Users will not need any external repeater box or bridge to integrate these seamlessly with their genie door tech.
Accessories
Genie also offers several accessories with most of its models: A Safe-T beam to keep the door from closing on someone accidentally, pre-programmed remotes, a keypad, and, depending on the model, a lighting system.
Our Verdict
There is no doubt that Genie garage door openers are great value for money! The extensive portfolio of various models allows homeowners to stretch their budgets to meet all their requirements and then some. Certainly, worth exploring some more. So, call us today, and we'll gladly give you any information you need about Genie garage door openers. Purchase and installation are a snap with Door Tech!