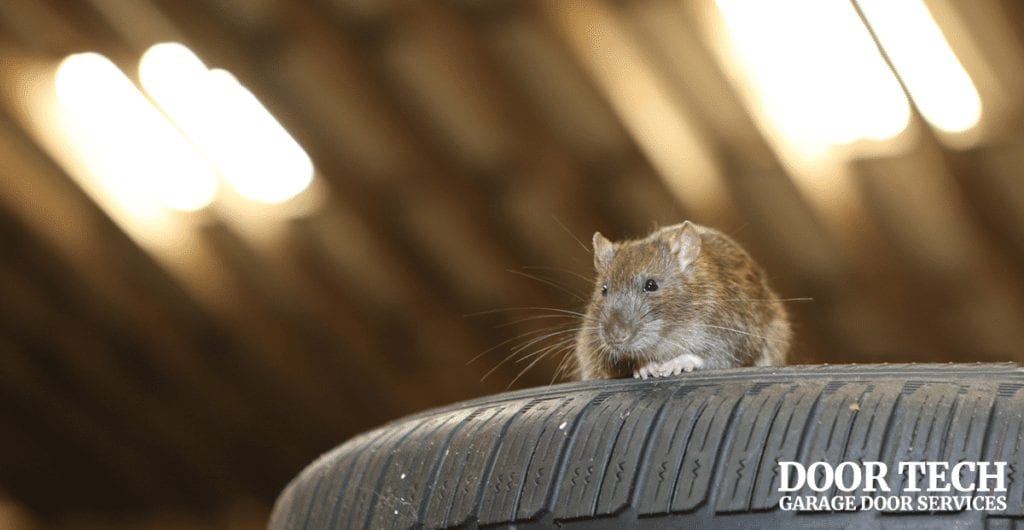 Do you have unwanted guests living in your garage? When it's cold outside, bugs and other animals look for someplace a little cozier than the out of doors. Whether they are causing damage or just hanging out, the situation is less than ideal. Let's look at some ways you can discourage and prevent unwanted tenants this winter. Eliminate garage pests!
Clean Your Garage and Declutter – Get Rid of Cozy Garage Pest Areas
Pests love to see that you are messy and unorganized. Prevent clutter from accumulating in your garage. The more places there are to build a home, the more likely a pest will do so! Keep your garage clean and store items in plastic bins instead of cardboard boxes. Eliminate hiding places for unwanted visitors.
Check Pipes for Leaks that Entice Garage Pests
Bugs love moisture. Leaky pipes in your garage will attract insects in a big way. Check to see if you have any leaky pipes. If you find some that are leaking, call a licensed plumber and get them repaired. This is the best way to ensure that you're not attracting any buggy friends to hang out in your garage.
Check Weatherstripping on Doors and Windows – Don't Let Garage Pests In!
Having sufficient weatherstripping on your garage doors and windows is one of the best ways you can keep bugs and other critters out of your garage in the first place. Unfortunately, insects can gain entry through the smallest holes and cracks. Having weatherstripping in place serves as a barrier to entry for insects and prevents them from laying eggs in your garage.
Use Caulk to Seal Holes and Cracks
Sometimes, the way that bugs and animals enter your garage is not through your doors and windows. Be sure to check for holes and cracks, not only in the walls but also in the floors and ceilings. Plugging these holes will keep unwanted visitors out, and will also help to make your garage more energy-efficient.
Check to See That Your Garage Door is Working Properly
We may be stating the obvious here, but if your garage door doesn't touch the ground completely and seal efficiently, you'll be rolling out the red carpet for unwanted guests… bugs and other animals! Take a look and make sure the door touches the ground. If there is a gap, call Door Tech in Gambrills today and get them to come out and repair your garage door.
Some of the items on this list are okay for DIY. But, you should call a professional garage door company like Door Tech in Gambrills to inspect and repair your garage door before icy weather hits. Call and make your appointment today!