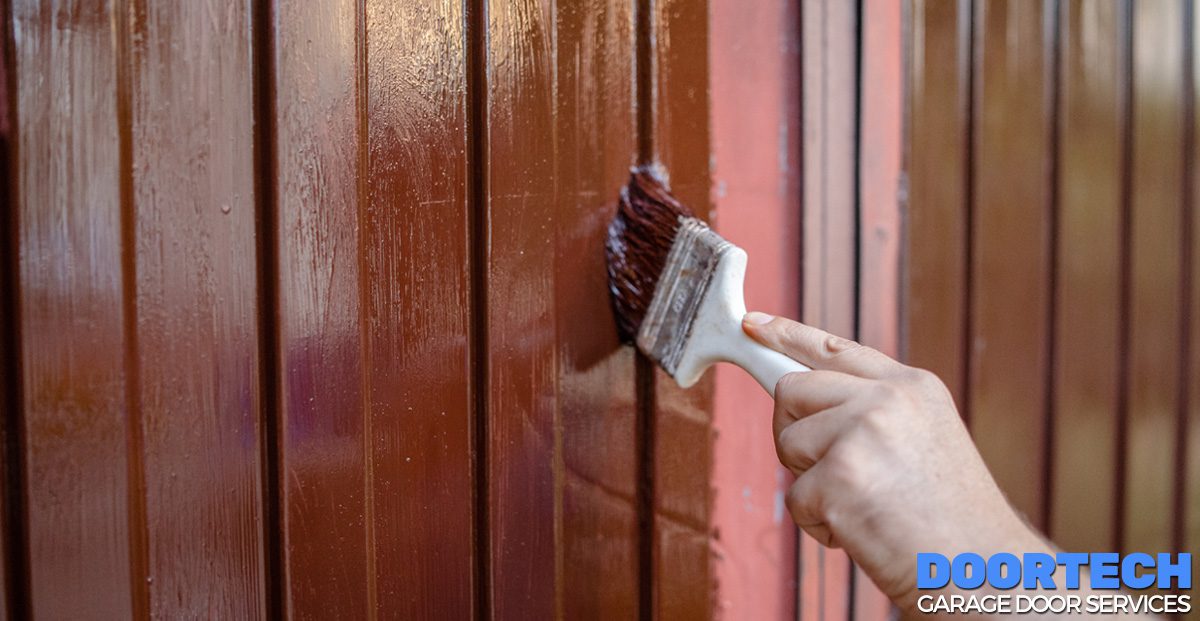 A house's garage door can either improve curb appeal or can lower it. Sometimes a metal garage door needs an upgrade to boost the home's charm.
A garage door can be plain, boring, or even an eyesore. The good news is there are some quick, simple, and inexpensive ways to dress it up. You don't need to spend a lot of time or money improving the look of your garage door.
Here are a few ideas on how to spruce up your steel garage door for just $20 or less.
Paint Your Metal Garage Door with Gel Stain Paint
Gel Stain is a type of paint that several brands manufacture. It is mainly used on wood. But you can use it on non-wood surfaces, such as metal. The purpose of Gel Stain is to give a nice wood stain appearance.
Gel Stain is thicker than traditional wood stain, so it's easier to use on a vertical surface, such as a garage door. Painting a plain, solid-colored garage door with Gel Stain will make it look like a wooden garage door, increasing the visual aesthetic.
Adding Magnetic Hardware
This is probably the quickest and easiest way to add character to your garage door. Many home improvement stores and online sites sell kits that include braces and handles to make a standard garage door look like carriage doors. These kits are very affordable, usually costing $20 or less.
And the best part is, it takes about five minutes to attach to a garage door since they are magnetic. There is no drilling, so no tools are needed to secure the hardware to the door.
You can easily move the hardware around, so you can place it exactly where you want. At the same time, it is strong enough to stay on the door. You won't need to worry about the hardware falling off.
Magnetic Window Accents
Another easy-to-install upgrade is black magnetic rectangles. Add these to the top of the door, and it will give the illusion that your door has windows. Window accents can also be found online or at home improvement stores.
The magnets are thin, making them easy to cut. Therefore, it's possible to create arches, curves, and sunburst-style windows, upping the wow factor even more.
Even though the magnets are thin, they are still sturdy enough to stick to the door and not slide around.
Metal Garage Door Paint
Most garage doors are plain white. Another inexpensive improvement is to paint it the same color as a front door or a color that matches your trim or shutters. Or give your house an unexpected pop of color to give it some character. You can easily find a quart of exterior paint for less than $20.
Painting a steel garage door may be the most labor-intensive DIY project. Sanding the door before painting may be necessary. If a door is sanded all the way down to the metal, you will need to prime it before painting.
It can be an easy project to tackle, no matter which way you choose to dress up your metal garage door. Every choice can all be done in a day and is inexpensive. And all are relatively easy, no matter your level of home improvement skills.
If we can help you jazz up your door, or if necessary, install a new one for you, we'd love to help! Give Door Tech a call, and we'll have you looking good in no time!