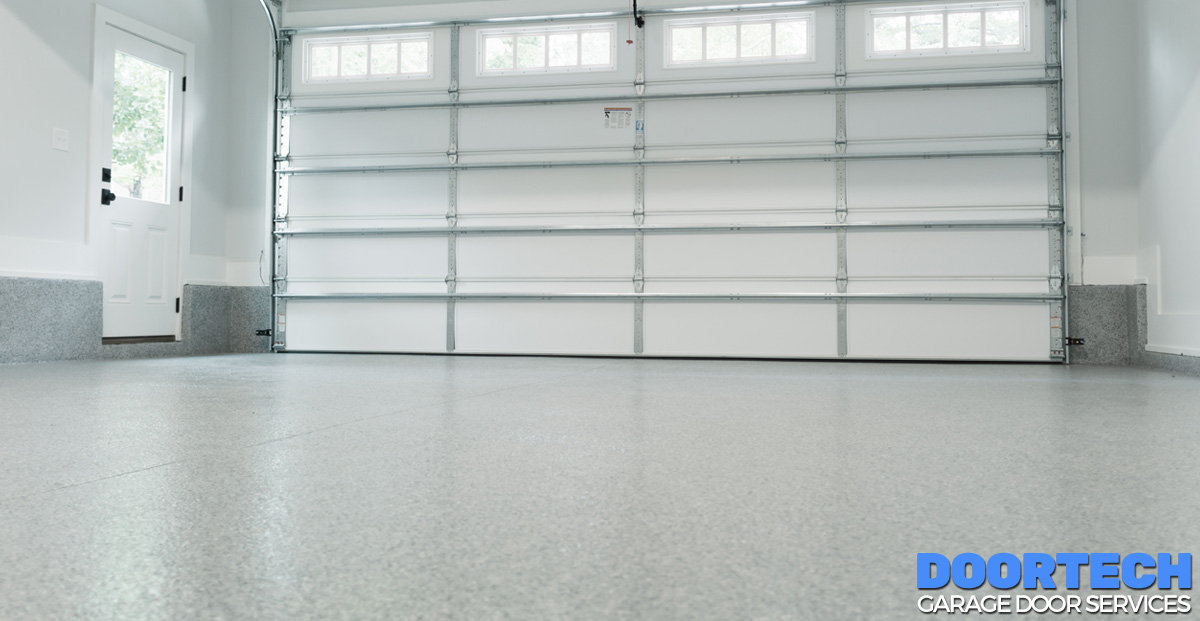 You're looking at garage flooring options because your garage floor has seen better days. The available choices vary widely in the range of cost and ease of application. What activities do you use your garage for during the summer or winter? Standard garage floors are concrete without any finishes. Do you use your garage as a game room? Are priceless automobiles stored in your garage? The use of your garage space, and cost, will be deciding factors when you make your flooring choice. Door Tech offers expertise to help you choose the best garage flooring option for your lifestyle.
Preparation For A New Garage Floor
Before installing a new garage floor, you'll need to deep clean your garage. It's a daunting task, but it will be well worth it. You'll find those "missing" items you were sure would never appear again. It's also a great time to have a garage sale. Hopefully, you'll have some help with this less-than-desirable job. You've already decided it's time to upgrade, so dive in. Create three piles. One pile is to pitch. The second pile is to donate or sell, and the third pile is to keep.
Polished Concrete Flooring
Garage floors vary as much as the variety of ways you can use your garage. Polished concrete flooring is resilient, complex, and performs well under less-than-desirable usage. It's less expensive, and the stain-resistant finish is easy to clean, making it a popular choice. Throw down a rug, a pool table, and some chairs, and you're good to go.
Rubber Tile For The Garage Floor
Rubber tile for your garage floor is a good option for a DIY project. Tiles interlock, come in many patterns and colors, and are reasonably priced. They generally come in 12" X 12" or 24" X 24" tiles. They are relatively easy to cut for installation. Rubber garage tiles are easy to clean, and if one gets damaged, they're easy to replace. They are also more forgiving when installed over a less-than-optimal concrete floor.
Vinyl Garage Flooring
Is your garage more of a shop space and rec room than a place to park your car? Is it your she-shed or man-cave? If so, vinyl flooring is a great choice. This product isn't difficult to install and comes in many colors and patterns. A well-versed DIY person could install vinyl tiles. In addition, it's easy to clean with products you probably already have at home.
Epoxy Flooring
Epoxy coating for your existing garage floor is a long-lasting and durable coating.
Call Door Tech to see if your garage floor is suitable for an epoxy finish. It won't be a good choice if your garage floor has moisture issues. On a suitable substrate, epoxy's durability and performance make it a top choice for many consumers. Epoxy comes in a plethora of colors and is easy to clean. Applying an epoxy finish is best left to the professionals to ensure you get the best finish.
Stone Flooring for Your Garage
Stone flooring comes in various styles and colors to enhance your garage floor. Flagstone, graphite, and sandstone are all options, and each comes at a higher price than other flooring choices. In addition, climate conditions are an essential consideration before opting to go this route.
There are numerous options for giving your garage floor an upgrade. Several garage flooring options are labor-intensive and require a skilled technician to complete the job correctly. Most importantly, you must consider the objective of your garage use. You want flooring that is functional and enhances your living space. Door Tech can help you decide which new garage flooring best suits your needs. Give us a call today!